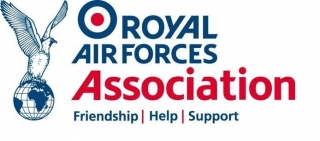 When Redditch grandfather, Doug Richards agreed to take on the Big Five half marathon through a South African game reserve, he joked about being chased by wild animals to make him run faster…
But he didn't realise how true his words would become!
Doug, 64, successfully completed the race in the Entabeni Game Reserve on June 23, but not without a massive scare just two days before the start.
He was raising funds for the RAF Association as his son, Chris, serves in the RAF, and they had run the Rome Marathon together for the same cause just three months earlier.
Two days before the marathon, he was taking part in a bush walk in the game reserve with eight other competitors, four from the USA and four from New Zealand.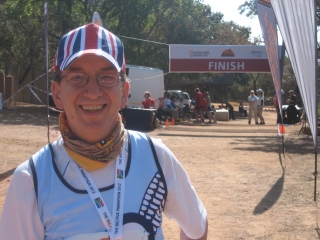 Pictured is Doug Richards at the Big Five finish line
He said: "We were learning about different animal tracks, how to tell how recent they were and the direction the animals were moving in.
"It was clear that there had been recent elephant activity in the area as there was still damp urine in some of the tracks despite it being a windy day. Our head ranger, Sander, had noticed the tracks had turned down into a deep wooded ravine, so we climbed part of the way down to a large flat rock known as 'the lookout' to see if we could see where they were.
"We saw nothing and Sander concluded that they had probably gone right to the bottom to the valley floor. As we had been out for some time, we decided to return to the lodge and started to climb out to the top of the ravine.
"At this point, I was following immediately behind Sander when a large elephant suddenly emerged from the trees above us. It immediately began to react aggressively and Sander and our other ranger, Marco, signalled us to descend into the ravine as quickly as we could.
"It was steep terrain littered with trees, bushes and boulders and I was now at the back of the party with just Sander behind me. He was yelling and screaming and waving his arms at the matriarch female who had now been joined by five others.
"Marco was yelling instructions to us to try and keep together and not to isolate ourselves. I was focused on leaping from boulder to boulder but could hear the elephants were getting closer as they ripped out small trees and bushes in their path"
"My over-riding memory was the noise they were making with continuous piercing trumpeting and deafening roaring. At one point I stumbled briefly and fell and, glancing back, saw the lead elephant no more than 20 yards behind us, huge ears spread out and tusks waving wildly.
"Sander was much closer than that, still screaming and shouting at them, and as I picked myself up, I heard him fire a warning shot from his rifle. This seemed to make them bellow even louder and so he fired a second warning shot into the air.
"Thankfully, this halted their charge, allowing us to again increase the gap between us and reach the valley floor."
"We were still concerned they might come again so had to climb up the other side of the ravine where we reached the safety of a track where we could call for a vehicle to come and rescue us.
"I have no doubt that our lives were saved by the professionalism and training of Sander and Marco," added Doug. "We had been given comprehensive safety instructions before the bush walk, and everybody followed them to a tee. It was also no bad thing that we were all marathon runners!
"Sander admitted afterwards that in over five years of leading bush walks, this was the first time he had had to fire a shot in anger. In the end it was the best possible outcome, both for ourselves and for the elephants".
When he fell on the descent, Doug sustained what at first appeared to be a knee injury which subsequently turned out to be a muscle sprain in the upper calf.
Two days of painkillers, ice treatment and some excellent support from the race organiser's medical team meant he was well enough to take his place on the starting line for the race.
He said: "The race itself was a fantastic experience.
"It was such a privilege to be able to run in such awesome surroundings with giraffes, zebra, and herds of wildebeest and antelope galloping across the plains. Fortunately we encountered no elephants, although we did pass a rhino and its baby with a nearby ranger keeping a watchful eye.
"Part of the course passed through 'lion country' although here again the rangers had had them under observation for the previous 24 hours so could keep them at a safe distance.
"Underfoot the terrain was difficult with lots of loose rock in places, stretches of deep sand and the dreaded, but stunningly beautiful, Yellow Wood Valley, which we first had to run down and then, a short while later, back up again with a height gain of 1200 feet in a little over a mile.
"I even ran for part of the race with a South African gentleman who had a large collection of RAF memorabilia at home. He wanted to know where he could buy a RAF Association running vest like mine!!
"It was certainly a couple of days that I will never, ever forget and just a day before the race started I received a text from my son to say we had raised over £500."
The RAF Association provides help and support for past and present members of the RAF and their families.
Doug's Just Giving page will be open until September. If you would like to sponsor him, go to www.justgiving.com/bigfive
Notes:
For further details, contact:
Alex Bifulco, Press Officer for the RAF Association on 0116 2688755/ email alex.bifulco@rafa.org.uk