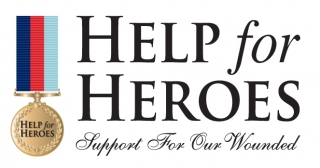 Paralympic silver medallist Jon-Allan Butterworth today joined fellow Help for Heroes Ambassadors Lorraine Kelly, Peta Todd and four 'Band of Brothers' wounded veterans to launch Hero Ride, the charity's latest fundraising challenge.
Hero Ride, taking place on Sunday 02 June 2013, will see cyclists from all corners of the country stage fundraising bike rides and meet on mass in Blackheath and ride together into central London in support of our wounded.
Led by 100 servicemen, women and veterans, Hero Ride will be the biggest cycling demonstration of national support for the wounded this country has ever seen and the British public will be encouraged to brush off their bikes and sign up to be part of this very special event.
Hero Ride is aiming to raise over £2 million for Help for Heroes. The funding will provide support for those who have suffered and survived injuries in recent conflicts and their families, for life.
The Ambassadors and veterans launched Hero Ride in Horse Guards Parade today as they were pictured with the most iconic bike in history: the Penny Farthing.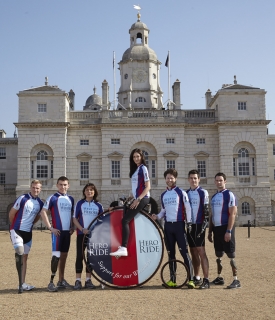 Peta Todd, Lorraine Kelly, Jon-Allan Butterworth & Wounded Veterans Launch 'Hero Ride' at Horse Guards Parade for Help For Heroes
Paralympian Jon Allan-Butterworth, who was severely injured whilst serving in Iraq in 2007 and has been supported by the charity since, said: "I've seen first-hand how funding raised for Help for Heroes can change people's lives and Hero Ride provides an opportunity for the British public to get behind our troops whilst also challenging themselves to do something different.
"Despite the landscape changing for our troops as we withdraw from Afghanistan, the support for this great cause cannot stop. It would a fantastic show of solidarity for as many people as possible to get involved with Hero Ride, whether they are participating, fundraising or lining the streets of London in June."
Peta Todd, fiancé of Mark Cavendish, who are both Help for Heroes Patrons, will be participating in June and said: "Hero Ride gives everyone the opportunity to get involved with an incredible charity and the beauty of this challenge is that you can set the boundaries, whether you can manage 10 miles or 100 miles on the ride to Blackheath, Hero Ride is for everyone.
"I would just say brush off your bike and get involved, it will be a once in a lifetime experience that you can get your friends involved with and be immensely proud of yourself at the finish line.
"I've been supporting Help for Heroes for many years – I actually rode in their first ever official fundraiser back in 2008. I have witnessed the great work that Help for Heroes do to support those who have suffered life-changing injuries and illnesses and I want to do all I can to help raise as much as possible."
The Hero Ride fundraiser will bring thousands of supporters to The Mall and the ride will take in some of its most iconic landmarks, including the Cenotaph and Buckingham Palace before culminating at Horse Guards Parade.
Through Hero Ride the British public will pledge to support our young men and women, and their families, now and as they grow old.
Lorraine Kelly, a Patron of Help for Heroes, has already undertaken a number of challenges for the charity and will be providing support to riders participating on the day.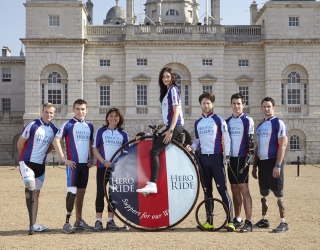 Peta Todd, Lorraine Kelly, Jon-Allan Butterworth & Wounded Veterans Launch 'Hero Ride' at Horse Guards Parade for Help For Heroes
Lorraine said: "Hero Ride gives everyone the opportunity to truly get behind Help for Heroes which is supporting individuals who have given so much for their country. Speaking from personal experience, I always feel such a sense of achievement when completing a challenge such as this, knowing that your efforts are helping someone else.
"I would encourage everyone, whether you are a mum of young kids who hasn't been on her bike for ten years, an avid cyclist or someone who has the self-motivation to apply themselves to a challenge, take part in Hero Ride."
There are a number of ways for the British public to become involved in Hero Ride.
People are being encouraged to sign up to Self-Organised Hero Rides, where cyclists from any ability and of any age form fundraising rides to reach Blackheath on 02 June and join with 900 other riders in the mass finale. The distances cycled and amounts raised are the responsibility of the ride organisers.
0n 02 June, a further 250 riders will take part in Dawn Raid, which is a tougher challenge for the serious, sporting rider, where the cyclists will cycle from from Tedworth House in Wiltshire to Blackheath – a distance of over 150 miles.
For those members of the public not wishing or able to cycle, they are encouraged to line the streets of The Mall and cheer on the heroes and champions and help in fundraising on the day.
Bryn Parry, CEO at Help for Heroes, said: "We are delighted to be announcing the fundraising challenge Hero Ride today.
"This is another chance for the great British public to get behind our troops, whether they are riding, fundraising or cheering on the streets we urge everyone to get involved. With the withdrawal from Afghanistan drawing closer, it is easy to think the job is over but actually the battle has just begun. Challenges such as this allow our support to continue, for life."
To find out how to get involved in Hero Ride, to sign up and to donate up please visit www.helpforheroes.org.uk
For further information please contact:
Kate Silvers 07789 544048 / kate.silvers@fasttrackagency.com
Caroline Grenger 07773 044593 / Caroline.Grenger@fasttrackagency.com
To read the Help for Hero biographies, click here: help-for-hero-biographies.pdf
Notes:
ABOUT HELP FOR HEROES
Thanks to the fantastic British public, Help for Heroes (H4H) has raised over £156m since its launch in October 2007. All funds raised to date are either allocated or spent on the direct, practical support of those Servicemen and women who are wounded, injured or become sick while serving our country but there is still an urgent need to ensure that support can be there for life.
Help for Heroes focus is on providing support direct to individuals and their families, funding for capitals and support for life. We do this in the following ways:
Immediate financial support through the £6m Quick Reaction Fund.
Opportunities and training, through grants for courses or access to specialist equipment for the transition into civilian life through Individual Recovery Plans.
Essential, comprehensive support, from mental wellbeing to education, employment and financial advice for serving personnel, veterans and their families at our four nationwide Recovery Centres.
Funding to other specialist charities: e.g. Blind Veteran's UK, Combat Stress, Haig Housing Trust, Horseback UK, Winston's Wish and Canine Partners.
Sport in Recovery: Adaptive Sports and Adventure Training to help seriously wounded Service personnel gain independence and confidence through funding initiatives such as the Armed Forces Battle Back programme, of which Help for Heroes are Founder Partners and a partnership with the British Paralympic Association.
A lifelong support network for the wounded, injured, sick through the Band of Brothers and their families and loved ones through Band of Sisters. These groups receive offers ranging from holidays to employment, financial and social support.
ABOUT H4H TRADING
Help for Heroes Trading retails a wide range of branded merchandise to help offset the running costs of the Charity. Every hoodie, mug and calendar sold ensures as much as possible from donations goes to fund direct, practical support for our wounded Servicemen and women.
Emma Parry, Co-founder of Help for Heroes, is Executive Chairman of Help for Heroes Trading.
ABOUT HERO RIDE
Hero Ride is an expansion of the Big Battlefield Bike Ride, the charity's first official fundraiser. In May 2008, 300 riders, including wounded service personnel, cycled 350 miles from the battlefields of Northern France to Blackheath, taking in WWI and WWII history and paying their respects to those who lost their lives in previous conflicts. On arrival in Blackheath, they were joined by more riders and cycled into central London to lay wreath at the Cenotaph. It was named the Big Battlefield Bike Ride finished and finished at the Horse Guards Parade, raising £1.65 million for the wounded. The event has run annually since.
Three types of rides will make up Hero Ride 2013. They will come together in Blackheath on the morning of 02 June before forming one mass staged ride into central London:
Dawn Raid: from Tedworth House to Blackheath (02 June) 250 riders
Self-Organised Hero Rides: various UK locations to Blackheath (conclude on 02 June) 900 riders
The Big Battlefield Bike Ride: Paris to Blackheath (26 May – 02 June) 320 riders FULL.