seAp Advocacy
Charity Number: 1080679
Company Number: 3963421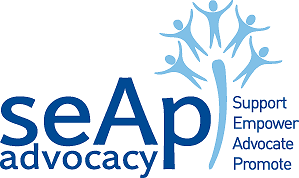 SEAP is a leading provider of quality specialist advocacy services across the south of England. We promote social justice through supporting and empowering people, particularly the most vulnerable, to have their voices heard, to safeguard their own rights and to be involved in the decisions that are made about their lives.
SEAP delivers services through both professional advocates and volunteer peer advocates supporting and enabling clients to:
• Express their views and concerns
• Defend and promote their rights and responsibilities
• Access information and services
• Explore choices and options
We work effectively in partnership with others and use outreach activities to engage with seldom heard groups and some of the most vulnerable and marginalised individuals in our communities.
Contact Information
Upper Ground Floor
Aquila House
Breeds Place,Hastings
TN34 3UY

Support Offered
SEAP's Military Advocacy Service is funded and supported by the Royal British Legion.
Currently, this service is offered across Oxfordshire, Buckinghamshire and Berkshire and is open to those with a military background including:
• individuals in transition
• veterans
• early service leavers
• medically discharged leavers
• reservists
Individuals receive assistance with a range of needs including:
• accessing benefits
• contesting work capability assessments
• housing issues
• medical issues including problems with prosthetic limbs
• mental health issues including PTSD
The Military Advocacy Service supports individuals to express what they need, explore their options and empower them to come up with their own solutions to their issues. The advocate also supports service beneficiaries to gain the skills and confidence to address their needs.
The military experience of the advocate is essential in understanding how the person feels, enabling them to be supported appropriately in their life, without the military structures they are accustomed to, when adjusting to a more independent civilian life. That knowledge also helps built rapport and trust between client and advocate, and the individual is more likely to engage with the service.
Advocacy does not provide care or treatment directly, but adds significant value when working with the most disengaged people, who respond well to the support it offers to them to gain increasing control over their own lives and achieve better outcomes when accessing existing health, social care and support services.