Leading leather-goods company Pemberton & Milner has teamed up with luxury British Jeweller Garrard to create Military Monopoly, an exquisite deluxe leather and silver version of the old family favourite.
Instead of the traditional streets and stations, Military Monopoly's properties will be ships of the Royal Navy, units of the Army and stations of the Royal Air Force. The traditional playing pieces will be replaced by references to military attire – a Household Cavalry Helmet, Beret, Royal Marines Commando dagger, Royal Air Force jet, sailor's cap and hard helmet.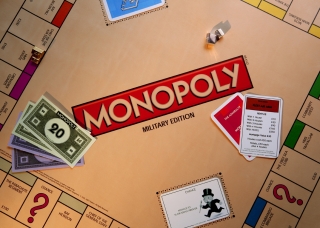 15% of sales proceeds will go to three military charities: The Royal Navy and Royal Marines Charity, ABF The Soldiers' Charity and The RAF Benevolent Fund.
Pemberton & Milner founder Elizabeth Finch-Moore says that she came up with the concept both because it fits perfectly with the company's collection, which includes other luxury leather board games, but also because of their longer term charitable interests: "Every generation of my family has served with the armed forces, most recently my grandfather in the SRU and SBS (Royal Marines), while my father was a Wing Commander, who then worked with the RAF Benevolent Fund. My brother served for some twenty-two years in the Artillery and my long-term boyfriend is a Captain, second in command of a gun battery in 7 Para RHA. Each of the three forces charities is therefore close to my heart, especially as they help the families as well as the individuals who have served."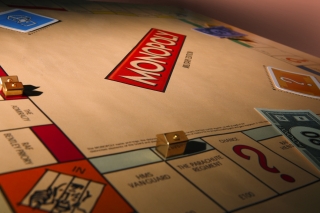 The Military Monopoly board, available only as a limited edition, is being exquisitely crafted using the finest materials, Pemberton & Milner's trademark approach to its manufacturing process. This special edition will be produced in two versions; Deluxe and Ultra Luxe. The Deluxe version features a hand-printed leather board, with elements of hand embossing, whilst the Ultra Luxe is entirely handmade, with each property square hand cut in lambskin and dyed so that the name that sits above the property is in the original Monopoly board colours. The squares are set within a contemporary black Perspex grid and the inlay is an unburnished shadowhide, a leather that takes on colour as it ages. Beautifully embossed in silver, the playing board reverses to become the lid to the elegant boxed game. The interior is lined in a signature teal, silky suede and contains two lift-out trays for Bankers and Property. Players have bespoke cash and property wallets in which to hold their portfolio as they work their way around the board. Houses & Hotels are silver plate and each of the icons is handmade by the Peter Hicks Studio's in-house sculptors.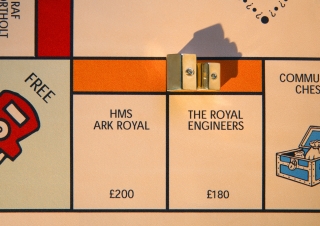 The Garrard Military Monopoly Board, only available by special order, is entirely hand-made with the signature features of the Ultra Luxe board finished with the jeweller's fine detailing of diamond inlay and sterling silver. The bold Monopoly wording across the board is presented in sterling silver set with pavé diamonds, as are the Chance squares. The dice in sterling silver gilt are set with contemporary pavé black diamonds and the British jeweller has created a special sterling silver shaker with a diamond set rim for this unique edition.
The boards go on sale through Pemberton & Milner at http://www.pembertonandmilner.com and direct from the three partner charities in November 2011. The 'Garrard Military Monopoly Board' and the Pemberton & Milner Ultra-Luxe boards are available at the Garrard flagship store , 24 Albemarle Street, London W1.
For further information and images please contact Pauline at Theresa Simon & Partners pauline@theresasimon.com 020 7734 400
Notes
Pemberton & Milner
Handmade in England, Pemberton & Milner is a leading private commission leather goods company. Combining a passion for refined British craftsmanship and a contemporary understanding of traditional luxury leather goods, we excel in creating exceptional product, giving a unique twist to the traditional English essential.
The company was launched by Elizabeth Finch-Moore at the beginning of 2010. Her passion for the traditional skills and excellent craftsmanship inherent in the British leather industry is matched by her love for design. Lizzie's experience includes her training at the Sir John Cass School of Art & Design (London Guildhall) and her career at fashion house Joseph. As a board member of fine leather goods brand Pickett gave her the commercial impetus & inspiration to launch the company.
Garrard
Garrard, the international jeweller and silversmith with a cultural heritage of unparalleled richness, was founded by master goldsmith George Wickes, who received his first royal commission in 1735. By the time the firm had passed into the hands of Robert Garrard in 1802, whose name it still bears, creating designs for social and royal patrons had become a matter of course. Garrard's elegant collections can be found today at its flagship store on London's Albemarle Street, or on display in the permanent exhibition in the Tower of London, where the Crown Jewels reside. Celebrating its 275th year anniversary this year, Garrard's legacy of devotion to the highest degree of workmanship has been the company's trademark since the first designs drew the attention of the world. Garrard continues to passionately embrace the past by creating tomorrow's heirlooms today. www.garrard.com
The Royal Navy and Royal Marines Charity

The Royal Navy and Royal Marines Charity's aim is to give a better quality of life to serving and former Naval personnel.
The Royal Navy and Royal Marines Charity was set up in February 2007 to form an umbrella organisation for naval sector charities. With one uniting voice, it provides unparalleled support to serving and ex service personnel, as well as their dependents.
The Royal Navy and Royal Marines Charity support to its beneficiaries can be split into five areas:
• Dependants grants : In the event of the death-in-service, we provide immediate relief in the form of a grant of £12,000 within 48 hours to the next of kin.
• Benevolence : We make large grants to charities that support service personnel, providing care to sailors, marines, their children and families throughout their lives.
• Amenities : Every deployed ship and RM unit receives a grant to their welfare fund twice a year. Large grants are also given to establishments and expeditions – from a bowling alley in Faslane, to support for the Naval Outdoor Centre Germany.
• Sports : We help our athletes prepare for the Olympics and Paralympics and 39 different Sporting Associations receive grants from our Sports Charity.
• Prizes and Awards : All main prize funds at training establishments, and the Herbert Lott prizes, come from the RNRMC, helping to keep people focused and at the top of their game.
Please visit http://www.rnrmc.org.uk for more information about The Royal Navy and Royal Marines Charity.
ABF The Soldiers' Charity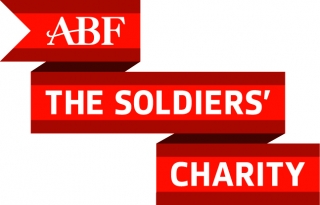 ABF The Soldiers' Charity, formerly The Army Benevolent Fund, supports soldiers, former soldiers and their families in times of need. They make grant payments within 48 hours of receipt, making a significant difference at a critical point in many lives. The charity currently helps over 4,000 people annually. It is already dealing with a 30% increase in case numbers and anticipates as a result of Current Operations requests for assistance will rise significantly in the coming years.
For information about The Soldiers' Charity, please call The Soldiers' Charity on 0845 241 4825 or simply visit www.soldierscharity.org
The Royal Air Force Benevolent Fund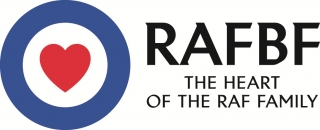 The Royal Air Force Benevolent Fund is the RAF's leading welfare charity, providing financial, practical and emotional support to all members of the RAF family. We are here for serving and former members of the RAF, as well as their partners and dependents, whenever they need us. We help members of the RAF family deal with a wide range of issues: from childcare and relationship difficulties to injury and disability, and from financial hardship and debt to illness and bereavement.
For more information visit www.rafbf.org