600 FREE TICKETS DONATED TO MEMBERS OF THE ARMED FORCES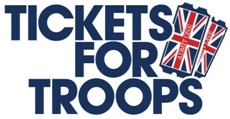 It was announced today that The MMA Show Live have partnered with Tickets For Troops to offer free tickets to members of the British Armed Forces.
After initially donating 300 tickets, Tickets For Troops are delighted that The Mixed Martial Arts Show Live have pledged further support for our Armed Forces by donating another 300 tickets to this fantastic event over the weekend of May 12th and 13th at the NEC in Birmingham, taking the total amount of tickets to 600.
The initial 300 tickets proved immensely popular and were all taken up by troops within two days, prompting The MMA Show to double the amount available through the charity.
Mixed Martial Arts has strong ties within the Armed Forces and one of the fighters attending The MMA Show Live is BAMMA British Middleweight Champion, Jack Marshman, who is a serving member of the Armed Forces.
Jack Marshman said "It's fantastic that the MMA Show Live have partnered with Tickets for Troops to make 600 tickets available. MMA is hugely popular in the forces and I'm sure the troops that have been serving their country in hostile territory will really appreciate the gesture. It will really help the sport continue to grow. I always get great support from all the military whenever I fight, so I can't wait to host a training session there and say thanks to some of the people that watch and support me."
The MMA Show Live is an interactive fan experience dedicated to mixed martial arts from around the World. Populating a second hall at the NEC in Birmingham alongside The Martial Arts Show Live, The MMA Show Live will consist of five training areas where some of the biggest names in the business will host special group training sessions, a huge stage & screen for Q&A sessions, an autograph zone where fans can meet their favourite fighters and exhibition stands where some of the biggest brands in MMA will be selling merchandise and much, much more.
The current star studded lineup for the The MMA Show Live is
Dan Henderson (UFC)
Michael Bisping (UFC)
Rashad Evans (UFC)
Sean Sherk (UFC)
Brittney Palmer (UFC)
Chandella Powell (UFC)
Thiago Silva (UFC)
Kenny Florian (UFC)
Jake Shields (UFC)
Paul Daley (Strkeforce)
Brendan Schaub (UFC)
Rory MacDonald (UFC)
Stefan Struve (UFC)
Jimmy Wallhead (Bellator)
Jimi Manuwa (BAMMA)
Jack Marshman (BAMMA)
Andre Winner (BAMMA)
Tim Radcliffe (UCMMA)
Vladimir Matyushenko (UFC)
Brad Pickett (UFC)
Jason Young (UFC)
Ross Pearson (UFC)
Dean Amasinger (KSW)
Che Mills (UFC)
Simeon Thoresen (UFC)
Tom 'Kong' Watson (BAMMA)
Ian 'The Machine' Freeman (UFC, Cage Rage)
Rameau Thierry Sokoudjou (UFC, PRIDE and DREAM)
Stephen 'Wonderboy' Thompson (UFC)
Jorge Rivera (UFC)
Frank Trigg (UFC, PRIDE)
Mark Coleman (UFC, PRIDE)
Keith Jardine (Strikeforce)
Dan Severn (UFC, PRIDE, Cage Rage, WEC)
More fighters are being announced over the coming weeks
Lord Marland, Chairman of Tickets For Troops, says 'We are delighted that The MMA Show Live are supporting Tickets For Troops with such a generous ticket offer. Mixed Martial Arts has a long association with the Armed Forces, being one of the most popular sports amongst the troops and we have no doubt that the second lot of tickets will be taken up as quickly as the first ones.'
The tickets can booked through the Tickets For Troops website www.ticketsfortroops.org.uk
Follow The MMA Show Live on Twitter at www.twitter.com/themmashowlive and Facebook at www.facebook.com/themmashowlive
For more information go to www.themmashowlive.com
NOTES:
About Tickets For Troops
Tickets for Troops (TfT) was set up in 2009 to provide members of the Armed Forces with free tickets for major sporting events, theatre performances, music concerts and cultural attractions.
Since launching TfT has been donated over 270,000 tickets and over 111,000 troops have registered on the website
Tickets are available on the TfT website to troops who are currently serving or who have been medically discharged since 2001. The partnership has allowed members of the Armed Forces and their families to escape from the stresses that are often associated with the work they do.
Tickets For Troops has teamed up with a wide range of organisations and has been able to offer free tickets to a huge number of high profile events, recently these have included tickets for The Saturdays, Wales vs. Scotland Six Nations Match and Jason Manford.
This initiative has attracted maximum support from a host of Patrons, including Joanna Lumley, Alan Shearer, and Prime Minister's wife Samantha Cameron.
Troops are encouraged to go online and register at www.ticketsfortroops.org.uk to take advantage of the fantastic tickets available for our Armed Forces.
For more information, please contact Rosie Trousdell at Tickets for Troops on 0207 9320808 or email rosie.trousdell@ticketsfortroops.org.uk
For more information about Tickets for Troops, please visit www.ticketsfortroops.org.uk
Contact Information For The MMA Show Live
General Enquiries – info@themmashowlive.com
Media Relations & Images – media@themmashowlive.com
Exhibitor Sales and Sponsorship – jay@themmashowlive.com