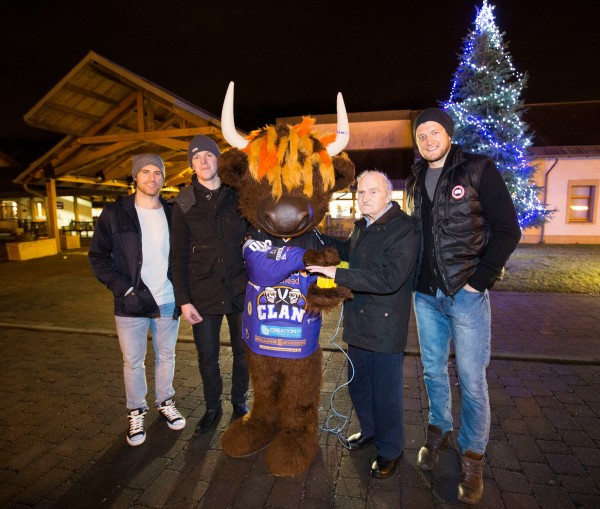 A Tree of Honour takes pride of place in every Erskine home this Christmas after the annual light switch on took place last night in each home.
The trees are decorated with very special stars, each one representing a loved one who is missing from family celebrations.  Erskine supporters send in their Purple Stars marked with personal messages in memory of someone special.  When the trees are full of stars the rest are displayed within Erskine's four care homes.
Veterans and their families and friends enjoyed the switch on event in each home with visitors attending to join in the celebrations.
At The Erskine Home in Bishopton pupils from Bargarran Primary School and local army cadets led a candlelight procession up to the entrance of the home with music from Kilbarchan Pipe Band.  Rev Jonathan Fleming conducted a short service which included a dedication of the tree before Scottish musician Alastair McDonald performed and led everyone in the singing of Christmas carols.
Erskine resident David Fannon along with Braehead Clan's Captain Matt Keith switched the lights on the Tree of Honour before everyone moved back into the warmth of the home for festive refreshments and a musical performance by Katrina Muir.
The Erskine Home Tree of Honour event is sponsored by Central Car Auctions of Glasgow.  Central Car Auctions Chairman Jonathan Miller said: "Central Car Auctions are delighted to support Erskine's Tree of Honour. It is a special event that celebrates the festive spirit at Erskine. We are pleased to support the charity and in particular an event that is enjoyed by veterans, families and members of the local community alike."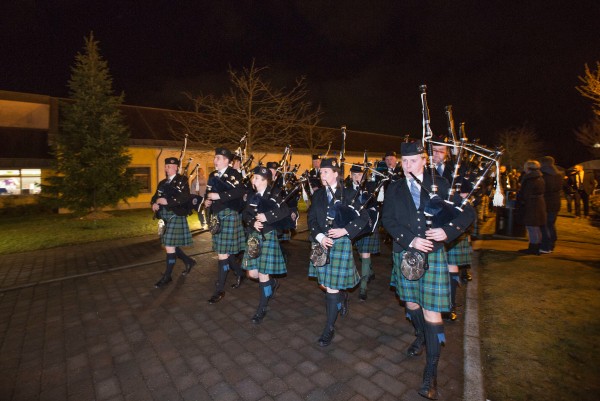 In Erskine Edinburgh a similar service was conducted by Minister David Dixon with Christmas Carols sung by children from Gilmerton Primary School.  Veterans and their families were then invited to place a star on the tree.
Erskine Chief Executive, Steve Conway said: "Our Tree of Honour service is always a moving start to the Christmas season, and offers us the opportunity to remember those service men and women who will be missing from the celebrations at this special time. For our Erskine veterans, those reflections are very personal as they remember those colleagues who didn't make it home."
-Ends-
For photographs please contact Judith Haw, External Communications, on 07725 413 746 or email judith.haw@erskine.org.uk
Notes to Editors
Erskine has been chosen as one of Braehead Clan's two charities of the year.  We were delighted to welcome some of the players to our Tree of Honour event this year at The Erskine Home. http://www.braeheadclan.com/
Erskine is a family. Our strength lies in the very special blend of dedicated care, compassion and understanding we offer to our residents and their families.  When Erskine was founded in 1916, our aim was to care for Service men and women who had been injured in active service. Today, care remains the cornerstone of our philosophy.  We not only care for our veterans – we care about them.
As Scotland's foremost provider of care for veterans and their spouses, we provide unrivalled nursing, residential, respite and dementia care within our four homes across Scotland.  Our person-centred care is tailored to the needs of each individual veteran.
Erskine's proud history also extends beyond its provision of medical and nursing care by employing and promoting all employment opportunities for veterans and offering housing to veterans and their families in 44 cottages within Erskine estate.
As a charity, we rely on the generosity of our supporters to maintain our commitment to care for Scotland's veterans – without donations we simply cannot continue this work.