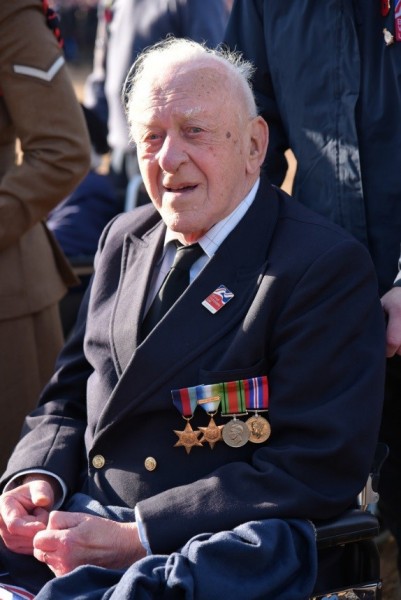 As the summer holidays arrive, a national charity is calling on relatives visiting their loved ones to look out for indications that they may be struggling with sight loss. Blind Veterans UK often sees a spike in applications following holiday periods, which the charity attributes to referrals from relatives who have visited a grandparent or elderly relative and noticed a deterioration in their vision.
Paul Hartley, the Senior ROVI (rehabilitation officer for people with vision impairment) at Blind Veterans UK, said: "Over the summer holidays many people will visit their grandparents or relatives for the first time in a while, and they may notice changes in their loved one's behaviour. Often this can be attributed to other conditions, but it could also be an indication that they are struggling with their sight."
Paul continued: "We would like to take this opportunity to call on all grandchildren and other relatives to look out for signs of sight loss, and to get in touch with Blind Veterans UK if they believe their loved one may be eligible for our support."
The following signs could indicate a family member is struggling with their sight more than they have previously acknowledged:
Constantly cleaning glasses
Tripping and bumping into objects
Losing track of items that are clearly visible
Avoiding social events and a loss of confidence in going out alone
Leaving post to pile up
Overfilling or knocking over a glass at the table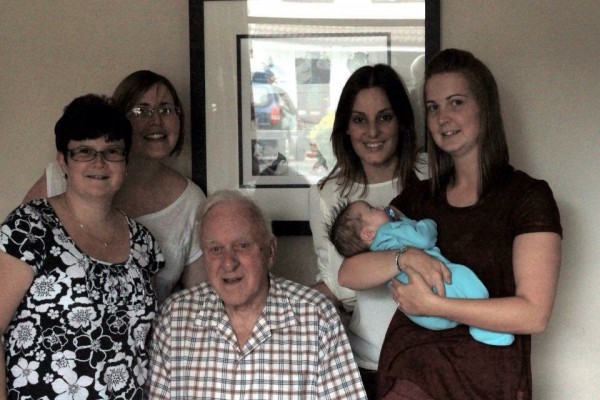 Paul said: "Here at Blind Veterans UK we want to help all veterans discover life beyond sight loss, including people in the older generation who served in the UK Armed Forces or completed National Service and lost their sight in later life. Our community support workers can offer mobility training to help avoid trips and falls, recommend low vision equipment such as text to speech scanners, liquid level indicators and electronic magnifiers, or even suggest social events in their local community."
Libby Woods, from St Helens and granddaughter of one of the charity's beneficiaries, has spoken of the positive impact the charity has had on her grandfather's life following his sight loss.
Libby's grandfather, Robert Ware, from Prescot, served in the North Atlantic aboard HMS Albrighton, a Hunt class destroyer. Robert was based in India for two years in preparation of an invasion of Japan during the Second World War. He has had his life transformed by the charity's help since losing his sight a few years ago as a result of age-related macular degeneration.
Libby said: "When my granddad started losing his sight his whole world became a lot smaller. He couldn't read the paper or use his watch to tell the time, and as a man who values his independence, it was very sad to see him struggle with the small everyday aspects of life that he previously enjoyed."
"Fortunately, the support of Blind Veterans UK has really given him a new lease of life. He now uses a talking watch, reads his paper with a special magnifier and keeps in touch with friends and family via email. My children love talking to their great-granddad about all the gadgets that help him around the house, particularly the "magic" liquid level indicator that he uses to make a cup of tea!"
Robert has also immersed himself in the charity's social events. He has marched at the Cenotaph with the charity as part of the annual Remembrance commemorations, visited Buckingham Palace as part of Blind Veterans UK's centenary celebrations, and attended reunion events in Liverpool.
Libby said: "The support granddad has received from Blind Veterans UK has not only given him back his independence in everyday life, but also opened up so many fantastic opportunities for him. I'd really encourage anyone who believes their loved one might be eligible for support from Blind Veterans UK to get in touch with the charity."
Blind Veterans UK estimates that there are currently 59,000 ex-Service men and women battling severe sight loss who could be eligible for support but who do not realise it. It doesn't matter when or how a veteran lost their sight, or when they served, Blind Veterans UK can help.
If you or your relative served in the Armed Forces or did National Service and is now battling severe sight loss, find out how Blind Veterans UK could help by calling 0800 389 7979 or visiting www.noonealone.org.uk.
If you notice sudden or dramatic changes in your or a relative's vision, please seek medical advice immediately.
ENDS
For all media enquiries please contact: Ruth Moore, Communications and Marketing Assistant, Blind Veterans UK, 12 – 14 Harcourt Street, London, W1H 4HD, E: ruth.moore@blindveterans.org.uk, T: 020 7616 7955
Notes to Editor
Blind Veterans UK
Blind Veterans UK (formerly St Dunstan's) is a national charity that believes that no-one who has served our country should have to battle blindness alone. It provides blind and vision impaired ex-Service men and women with lifelong support including welfare support, rehabilitation, training, residential and respite care.
The charity needs £100 million over 5 years to provide lifelong support to blind ex-Service men and women. Find out more at: www.blindveterans.org.uk, and follow us on Facebook at: facebook.com/blindveteransuk and on Twitter at: twitter.com/blindveterans