A Cheshire blind veteran is going have his artwork piece "Java the Last Tiger" featured in Blind Veterans UK's annual exhibition fundraiser this month after the charity introduced him to the craft last year.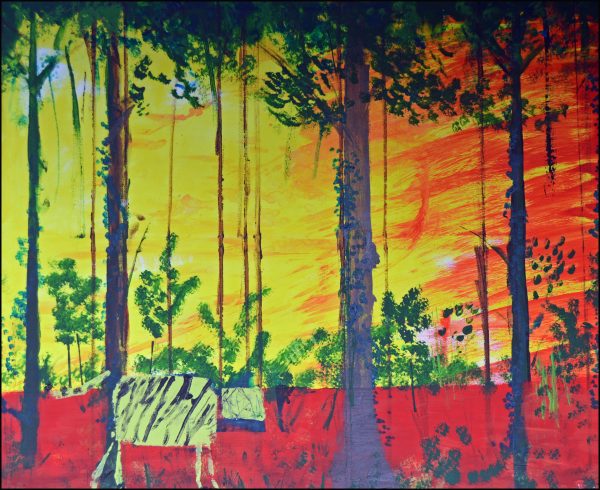 Jon Westerby, 59 and from Northwich, created the piece in three months during the lockdown period. He says:
"I visited the charity's Brighton centre in July 2019 for a painting week. I had never painted before but I really enjoyed it and found it very relaxing. I saw that the exhibition was happening and I thought I'd enter as a way of giving something back to the charity. Lockdown was hard and this gave me something to do". 
The charity normally hosts an annual art exhibition at their training and rehabilitation centre in Brighton. However due to the COVID-19 pandemic, the decision was made to make it virtual with the auction being hosted on eBay.
Jon's painting relates to the extinction of the Javan tiger which were hunted to extinction on the Indonesian island in the 1970s. He says:
"The exhibition's theme this year was 'Landscape' so I wanted to make a representation of tiger. It's meant to be in the jungle with light piercing through the foliage and little birds hidden away. I can barely see the tiger and a lot of the piece involved guess work. For example, I used a piece of wood to help me work out where the trees should be on the canvas".
Jon served in the Duke of Wellington's Regiment of the British Territorial Army for two years. He suffers with retinitis pigmentosa in both eyes and started to lose his sight when he had problems with his night vision. He says:
"I heard about Blind Veterans UK in 2018 when I attended a talk at Vision Support Cheshire. There was a speaker there from the charity so I decided to look into it".
As well as the painting week, Jon has attended many activity weeks since joining the charity. He says:
"You name it, I've done it! I've done fitness weeks, hill walking in Snowdonia, Sailing – every activity you can think of. I've never had the chance to do all these adventures before. The charity has changed my life. I'm looking forward to being able to do all these things again when it's safe to do so!"
As well as artwork created by other blind veterans, the exhibition also includes pieces by staff and volunteers associated with the charity.
Since the charity first started its work in 1915 with soldiers returning from World War One, the role of art and crafts has been integral to the rehabilitation of its veterans.
From craft skills such as basket-making, woodturning and frame-making in the charity's early days, to today's activities of painting, photography, sculpture and mosaic, blind veterans are able to build their sense of independence and develop their creativity.
While once the focus of such training was primarily on the vocational aspects of these skills, blind veterans are now supported in the Blind Veterans UK specialist Art & Craft Workshop to explore the recreational benefits of the arts.
Whether it's helping to rediscover a skill someone thinks that they may have lost, or encouraging our veterans to try something they've never tried before, confidence gained in the workshop often helps to overcome many of the barriers and challenges of sight loss.
Louise Kirk-Partridge, Rehab Lead in the Art & Craft Department at Blind Veterans UK says:
"Having the chance to pursue the creative arts is a fantastic way for our veterans to regain confidence after sight loss. This exhibition is a real opportunity to showcase that there really is no barrier for its enjoyment, while also raising much-needed funds for the charity."
The 24 unique pieces of artwork, especially created for the exhibition, are open for bidding on eBay between October 20 and 30, with all funds raised going to Blind Veterans UK. Visit blindveterans.org.uk/artexhibition for more information.