A blind veteran from Conwy has been contacting other veterans like himself who are supported by the charity Blind Veteran UK to make sure that they do not feel alone during this isolation period.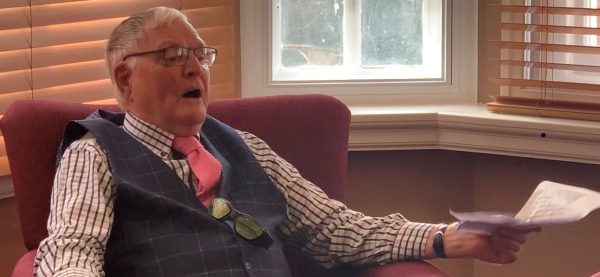 John Williams, 90 and from Abergele in Conwy, decided that he wanted to help the charity that has supported him since 2016 and give something back for everything they have done for him. The retired Welsh teacher says:
"I called Blind Veterans UK to see if there was anything I could do to help during this time. They have done so much for me and given me so much kindness and support. I decided to check in with some of the veterans to see if there's anything they need. As welsh is my first language, I've been singing the hymn Calon Lan to a few of them!"
John joined the Royal Air Force in 1950 when he was only 20 years old. He served until 1952 when he then trained to become a teacher. He says:
"My experience of education wasn't the best and I left school at 14. When I left the RAF I knew I wanted to go back to college. I worked hard, went to night school before going to university. I became a Welsh teacher and taught for 32 years in Abergele".  
John lost his sight later in life due to Glaucoma. Fortunately he found out about Blind Veterans UK after he was told about them during a hospital visit. John says:
"I am so happy to be a member of the charity – they have rescued me. I regularly visit their rehabilitation and training centre in Llandudno and have kept in contact with some of the other veterans who I have met. We all need a friendly voice at the moment so I decided to regularly check up on them".
Lisa Lee, Blind Veterans UK Community Support Worker, says:
"John was actually my teacher at high school! All these years later, I have now taught him how to use some the IT equipment that he uses such as his Synapptic tablet. What John is doing to help is invaluable. He is always singing when he's at the centre so it's lovely that is he still able to bring some of that joy into the veterans' homes. He is such a lovely man!"
Blind Veterans UK has adapted its service to support its 5,000 beneficiaries, 90% of whom are over 70 and thus being advised by the Government to self-isolate. The National Support Service will help blind veterans through this period of social isolation.
Nicky Shaw, Blind Veterans UK Director of Operations said:
"Having to self-isolate, blind veterans need our help right now with daily tasks, such as the shopping, and constant emotional support through this difficult time. So we are temporarily changing our service and mobilising our staff to provide practical, essential support to help the most vulnerable."

Nicky Shaw added: "There is so much that we can and must do to support blind veterans to help them maintain physical and emotional wellbeing, and to feel safe, reassured and cared for during this crisis."
You can keep updated on Blind Veterans UK's response to Covid-19 at blindveterans.org.uk/coronavirus where you can also find out more about supporting the charity to make this new service possible.
Notes to Editor
Blind Veterans UK helps vision-impaired ex-Service men and women of every generation rebuild their lives after sight loss. Since 1915 we've provided rehabilitation, training, practical advice and emotional support to tens of thousands of blind veterans.
Find out more at: blindveterans.org.uk and follow us on Facebook at: facebook.com/blindveteransuk and on Twitter at: twitter.com/blindveterans.