As a tribute to all who have served in the Royal Air Force in the last century, Isle of Man Post Office has commissioned a set of eight commemorative stamps.
The stamps are officially licensed by the Ministry of Defence, highlighting the rich history and legacy of the RAF – the world's first independent air force, founded on 1 April, 2018.
A unique feature of this stamp collection is the incredible depth of information that each stamp contains in relation to the RAF history. The stamps not only include images of iconic RAF aircraft – from the earlier fighter aircraft such as the Sopwith Camel, to the more recent Typhoon and Lighting II – they also contain other details such as key airfields, personnel, medal ribbons, flags and the RAF Ensign.
As an added bonus, each stamp also includes a secret message in morse code, which is only visible under UV light. Once deciphered, the message reveals the well-known poem High Flight, by John Gillespie Magee, a Canadian Air Force pilot who trained at the RAF Cranwell, Lincolnshire. The poem was penned shortly before he died, at the age of 19, in a Spitfire training accident at RAF Cranwell.
The impact of the RAF Benevolent Fund's support of the RAF throughout their history has been
acknowledged in the 100 Years of the RAF Stamp Sheets and Prestige Booklet – a full colour 24-page booklet that contains two sets of adhesive RAF stamps. The booklet also includes additional text on the history of the RAF written by Air Vice-Marshal David Murray, Controller of the RAF Benevolent Fund.
David said: "These innovative and striking stamps are not only unique in their design but pay a great tribute to the exceptional people who have contributed to the success of the RAF in the last 100 years. The RAF Benevolent Fund is very pleased to be featured in the stamp products, as it demonstrates the important impact that we have made, proudly supporting the RAF Family through thick and thin since our formation in 1919."
The collection was designed by Ben Glazier, whose grandfather Geoffrey Glazier was a Royal Flying Corps pilot on active duty in France on 1 April 1918, making him one of the first RAF pilots.
To find out how more and buy stamps, go to: https://www.iompost.com/stamps-coins/collection/100-years-of-the-royal-air-force/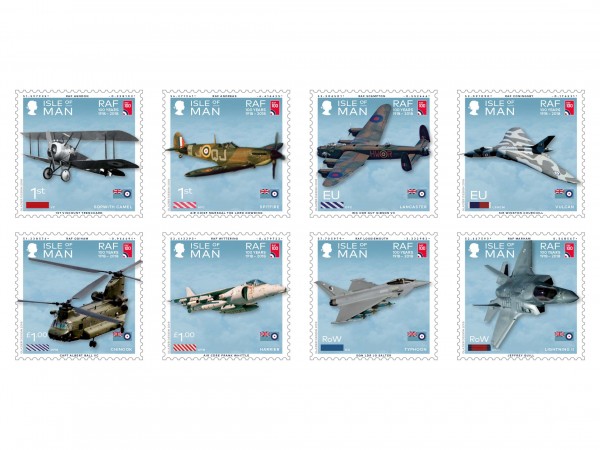 Ends
For more information and high res images please contact: Rebekah Sharrock, PR Officer, RAF Benevolent Fund, E: rebekah.sharrock@rafbf.org.uk | T: 020 7307 3305 | M: 07595 657979.
RAF Benevolent Fund: The Royal Air Force Benevolent Fund is the RAF's leading welfare charity. We exist to support current and former members of the RAF, their partners and dependants, whenever they need us. In 2016 we spent £17.6m supporting more than 65,000 members of the RAF Family. For more information visit:  www.rafbf.org Twitter: https://twitter.com/RAFBF