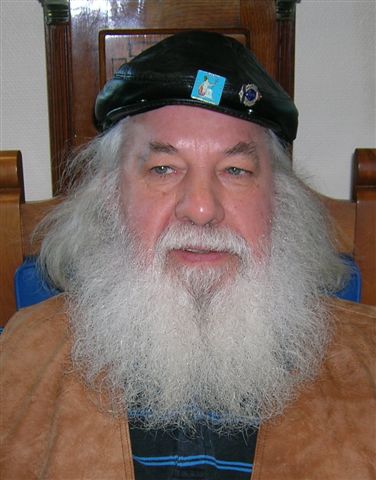 Mike Saunders, 75, from Lowestoft, will spend the festive period with other vision-impaired ex-Service men and women at Blind Veterans UK's Llandudno centre. Every year the charity invites beneficiaries who would otherwise have been alone at Christmas, like Mike, to spend the week at one of the charity's training and rehabilitation centres.
Mike says: "It's going to be great to spend Christmas with Blind Veterans UK. The staff seem to have a sixth sense because they always know what you need – they're incredibly helpful and kind."
He continues: "I live by myself with my guide dog Alice, who is now retired. If we weren't going to the centre it would just be the two of us alone on Christmas day, but now we'll be with a big friendly group. It will be great!"
Mike joined the Royal Navy in 1957 aged just 15. He served for 12 years and travelled all over the world, including to Australia, New Zealand, Mexico and Canada. He was discharged in 1969 as a Leading Seaman.
Mike says: "I enjoyed being in the Navy very much. It gave me the opportunity to see and experience a lot of things. I joined when I was very young and it certainly taught me to look after myself, but also to respect other people. Those are important life lessons."
It was years later that Mike was diagnosed with age-related macular degeneration. Mike was forced to give up driving, something he struggled with having been fiercely proud of his independence.
Mike says: "I felt sick as a parrot when I was told I'd lose my sight. It was really difficult to accept, but I've lived with it for nearly ten years now and it's something that I've just learned to get on with."
Mike started receiving support from Blind Veterans UK in 2009 when he found out about the charity through a local community group. Since then he has received equipment like a CCTV reader, which allows him to read the newspaper, and a special mobile phone which helps him feel confident when he's out and about.
Mike says: "Blind Veterans UK have been so good to me and I know that this Christmas I'll be well looked after. This will be my third time staying at the centre for Christmas and it only gets better."
Blind Veterans UK is the national charity for blind and vision-impaired ex-Service men and women, providing vital practical and emotional support to help veterans discover life beyond sight loss.
The charity is reaching out to the estimated more than 700 vision-impaired ex-Service men and women in Suffolk battling severe sight loss who could be eligible for support but don't currently realise it. Most of these veterans completed their service many years ago, and have since lost their sight due to conditions such as macular degeneration or glaucoma.
If you, or someone you know, served in the Armed Forces or did National Service and is now battling severe sight loss, find out how Blind Veterans UK could help by calling 0800 389 7979 or visiting blindveterans.org.uk
ENDS
For all media enquiries please contact: Ruth Moore, Communications and Marketing Assistant, Blind Veterans UK, 12 – 14 Harcourt Street, London W1H 4HD, E: ruth.moore@blindveterans.org.uk, T: 020 7616 7955
Notes to Editor
Blind Veterans UK
Blind Veterans UK (formerly St Dunstan's) is a national charity that believes that no-one who has served our country should have to battle blindness alone. It provides blind and vision impaired ex-Service men and women with lifelong support including welfare support, rehabilitation, training, residential and respite care.