Streamed straight to your home, a beautiful and uplifting service with our talented singers, musicians, readers, buddies and SWV Veterans.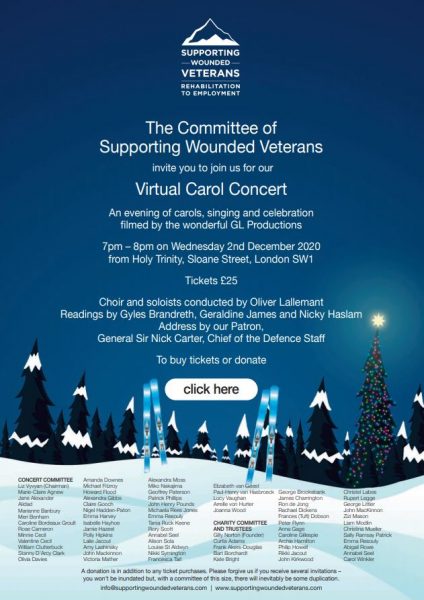 We may not all be able to gather together at this year's SWV Carol Concert, but what we can do is bring you a joyful event, full of hope, which celebrates the achievements of the charity and the goals attained by our extraordinary Veterans.
The wonderful Holy Trinity Church Sloane Street will form the backdrop for our evening and we are delighted that Oliver Lallemant will once again be conducting our choir and soloists as well as playing the piano.
We would like to say an enormous thank you to Gerry Lewis Productions who filmed our carol concert for us. Gerry and Rob donated their time, energy and creativity to SWV and we cannot express how much we appreciate their support (and patience!).
Over the last few challenging months, the SWV team have been working hard to adapt and develop new ways to help those Veterans most in need. In 2019 our Carol Concert raised almost £75,000 and, with a majority of our fundraising events cancelled in 2020, your involvement this year with both the concert and auction is even more important.
So, please buy your tickets, make a donation if you can and make Wednesday 2nd December an evening when you invite your friends to join us in raising a glass to cheer on the Veterans being helped by your generous support of SWV.
We will be launching our online auction on Monday 2nd November. With a glorious array of lots from villas to shooting days to delicious bottles of port, the SWV auction is the only place to shop for exciting and unusual Christmas presents this year. The auction will run until Tuesday 15 December.