A yoga instructor from Warrington is doing 30 days of live instruction on her YouTube channel in order to raise money for the charity that supports blind and partially sighted veterans, Blind Veterans UK.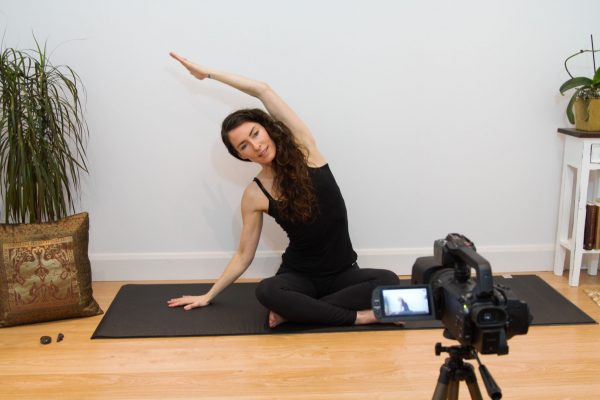 Professional yoga instructor Katya Greer, 37 and from Glazebury in Warrington, is providing the sessions free of charge every morning in November.
Katya says:
"I know how difficult the previous lockdown was for our collective physical and mental health, so I wanted to do something to help out and raise money for a great charity at the same time."
The sessions are broadcast live at 10am on youtube.com/lotusfloweryoga and are also available on demand.
Katya is not charging for the sessions but welcomes donations to Blind Veterans UK if students are able to give. She says:
"My dad is partially blind, so I have a deep connection with the charity. Luckily, he has family around to support him but I know there are lots of blind veterans who don't and that's why the charity is so important. Especially at this time of year when loneliness and isolation can be so tough for the elderly and sight impaired."
Katya has raised £20 towards her £500 goal. To help Katya hit her target and support blind veterans who are struggling this winter, visit her Just Giving page: justgiving.com/fundraising/yogafor30daysinnovember.
Blind Veterans UK has adapted its service to support its 5,000 beneficiaries, 90% of whom are over 70 and at an increased risk from Covid-19. The National Support Service has and will continue to help blind veterans through this period of social isolation.
Nicky Shaw, Blind Veterans UK Director of Operations said:
"Living in isolation, blind veterans need our help right now with daily tasks, such as the shopping, and constant emotional support through this difficult time. So we are temporarily changing our service and mobilising our staff to provide practical, essential support to help the most vulnerable.

"There is so much that we can and must do to support blind veterans to help them maintain physical and emotional wellbeing, and to feel safe, reassured and cared for during this crisis."
You can keep updated on Blind Veterans UK's response to Covid-19 at blindveterans.org.uk/coronavirus where you can also find out more about supporting the charity to make this new service possible.