A double amputee Army veteran is again attempting to summit one of the deadliest mountains in the world.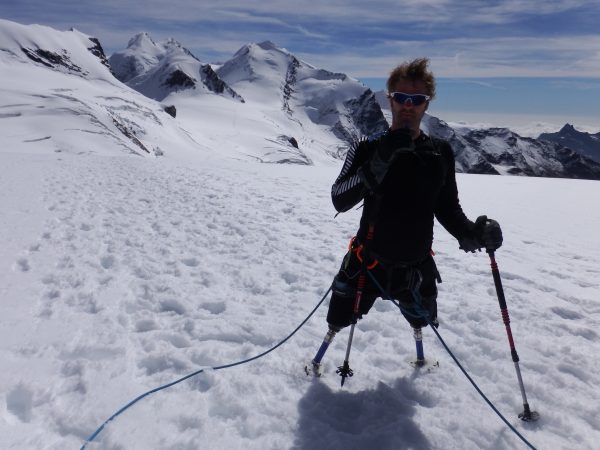 Neil Heritage, 39, from Dorset, started to climb the Matterhorn on 2 August in his third attempt to summit the mountain. If Neil and his team reach the summit, he will be the first double above knee amputee to complete the challenge.
The former corporal, who was injured by a suicide bomber in Iraq in 2004, attempted the climb in 2016 and 2018 but had to make the difficult decision to turn back. In 2017, Neil and his team had to abandon their attempt as weather and two metres of snow thwarted any possibility of a safe climb even starting.
To undertake the challenge, Neil has had the backing of several military charities, including Blesma, the Limbless Veterans, who helped towards funding this year's expedition as well as previous attempts, and main sponsor Neptune, a home furniture shop. Blesma, The Limbless Veterans is the national charity for all limbless service men and women, their widows and dependants. It was formed in the years following the First World War and became a national charity in 1932.
Speaking before he set off, Neil said:
"It was a last-minute decision on whether we actually went this year. We were holding off to see what the Covid-19 restrictions allowed us to do. It was only four weeks ago that we started planning travel and putting everything together, but we always trained as if we were going."

"I'm feeling good about this year's attempt. The weather has improved over the weekend, so hopefully by Sunday or Monday morning we can get going nice and early. We have a bigger team coming out including six people from Veterans' charity Climb2Recovery, so I certainly feel more confident. If the weather doesn't work out for me, the chances are it might work out for some of the other guys. It takes the focus off me a little bit – which is always a good thing!"
Prior to the Matterhorn climb, Neil has completed triathlons, learned to scuba dive and ski and also completed a 3000-mile row across the Atlantic as part of the Row 2 Recovery team.
Neil's 15 strong climbing team will include six wounded, injured or sick veterans who are part of  Climb2Recovery, including Blesma Member Les Binns, five experienced mountain guides and four sponsors.
The team started the climb on the 2 August 2020 and have a two-week window to reach the summit.
Neil is completing his Matterhorn challenge in aid of Climb2Recovery, which he founded in 2016 and aims to support wounded soldiers in their rehabilitation using climbing and adventurous challenge as a springboard to recovery.
Jon Bryant, the Chief Executive of Blesma, said:
"We are delighted to be supporting Neil in his third attempt to climb the Matterhorn.  His determination to overcome all obstacles and achieve this feat is truly inspirational.  All of us at Blesma wish him and the team every success."
To support, please visit https://www.justgiving.com/fundraising/climb2recovery