Determined to rise to the challenge, a group of military wives and their households are all set to tackle the height of the Welsh peak, Pen Y Fan this weekend in a bid to raise vital funds for national bereaved Armed Forces children's charity, Scotty's Little Soldiers.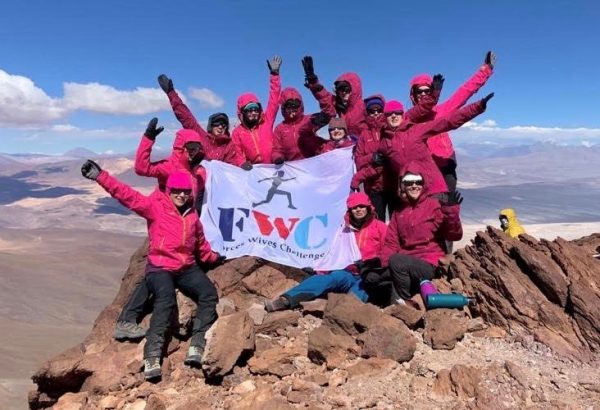 Founded by former army regular, Heather, the Forces Wives Challenge was set to complete the 886m climb to the top of Pen Y Fan later this year. However, due to the lifestyle changes put in place last month, the group has brought the event forward to this Saturday (18 April) creating a virtual climbing event that not only the group, but anyone looking for a challenge, can take part in to help raise money for charity.
Made up of over 500 military wives and partners globally, the Forces Wives Challenge was established in 2018 by Heather after she made the decision to leave the Army. The mother of two said:
"The military provides so many incredible opportunities for travel and adventure, after leaving the Army I wanted to make similar opportunities available to those that hold the fort at home so I set up the Forces Wives Challenge as a way of making this a reality."
Every year members of the group climb Pen Y Fan – a challenging peak that holds a special place in the heart of the British military community. To ensure they uphold the tradition, Heather and the Forces Wives Challenge community are determined to complete the challenge from the safety of their own homes.
From climbing the stairs in fancy dress to scaling the width and breadth of the garden, the group are wholeheartedly committing to the challenge and getting the whole household involved, in order to beat their fundraising target of £1,000 for Scotty's Little Soldiers.
This event is open to everyone – you don't need to be an FWC member. From Scotland to Wales and beyond people will be taking part in this iconic challenge.
One military wife taking on the challenge is Forces Wives Challenge member and avid Scotty's Little Soldiers supporter Katherine, who in 2014 was part of a group of 11 military wives who climbed Kilimanjaro, raising £66,000 for Scotty's.
Determined to get her Kilimanjaro team back together virtually for Scotty's, Katherine said:
"It is fantastic to be part of Forces Wives Challenge this weekend climbing Pen y Fan virtually, highlighting the importance of exercise and challenges, even during these unprecedented times. It is even better that this weekend's challenge is raising money for Scotty's Little Soldiers. Having raised money for them climbing Kilimanjaro, with a brilliant group back in 2014, it seems the perfect opportunity to climb another mountain, alongside other military spouses raising money for Scotty's Little Soldiers."
For Heather, the challenge will involve climbing the stairs in her house 312 times. Completing the challenge alongside her husband and two children, the family will take it in turns with Heather and her husband climbing the stairs 12 times an hour, and her children climbing them 2 times an hour.
Commenting on the challenge Heather said:
"Pen Y Fen is a challenge we as a group tackle every year so not doing it this year just wasn't even a consideration. I really wanted to do something and we'd committed to raising money for Scotty's Little Soldiers, a charity that resonates with every member of our group, so turning the event in to a virtual challenge seemed like the perfect option and a really easy way for people to get involved."
This year, the group's chosen charity is bereaved Armed Forces children's charity, Scotty's Little Soldiers, a charity that more than ever needs fundraising support to ensure the integral support it provides to its members can continue.
The charity was founded in 2010 by war widow Nikki Scott after her husband, Corporal Lee Scott was killed in Afghanistan the previous year, leaving behind two young children. The charity does lots of things to support its members, including providing access to the very best health and wellbeing care, offering outstanding development opportunities through a range of activity and educational grants, and Scotty's helps put smiles back on those brave faces by providing respite breaks, posting them birthday and Christmas presents and remembering the anniversary of their parent's death.
Usually, at this time of year, Scotty's would be arranging respite breaks for the families, but sadly this isn't possible at present. In recent weeks, the charity has had to adapt to the current climate and has been using modern technology and arranging exciting virtual events and activities to engage with its members as well as offering an increased level of emotional support to a great number of families who are struggling to cope with added pressures.
For Heather and members of the Forces Wives Challengers Group, Scotty's is a charity they consider close to their heart. Heather said:
"I was introduced to Scotty's Little Soldiers through a friend and being in the military myself I can fully appreciate and respect what they do for hundreds of children who have lost a parent in the Armed Forces.

"A lot of our members are mums, so the charity really resonates with us all. What they do for the children is simply incredible and although I haven't experienced it myself, I can sympathise with the families and the children they support."
Scotty's founder, Nikki said:
"What Heather and the Forces Wives Challengers Group are doing is just incredible and I can't thank them enough. Our families need us more than ever so every penny helps to ensure we can continue to deliver the high standard of support they need at this time of uncertainty. Only with the help of people like Heather and those taking part in this challenge can we continue to do what we do for our members."
To sign up and take part in the Virtual Pen Y Fan event visit: https://www.forceswiveschallenge.org/virtual-penyfan
And to see how you could support Scotty's Little Soldiers visit: http://scottyslittlesoldiers.co.uk/
Notes to editors
To speak to a member of the Scotty's Little Soldiers team, please contact Scotty's national PR agency: Claire Lomax (claire@wolfstarconsultancy.com) 0771 433 8198.
About Scotty's Little Soldiers
Scotty's Little Soldiers supports children and young people who have lost a parent who served in the British Armed Forces.
Founder, Nikki Scott, set up the charity after her husband, Corporal Lee Scott, was killed inaction in Afghanistan in 2009, leaving behind two young children – Kai was 5 and Brooke was just 7 months.
Nikki witnessed first hand the effect the loss of a parent can have on a child. It was on a family holiday some 9 months after Lee's death that Nikki saw her 5-year-old son Kai laugh and smile for the first time since his dad's death. Nikki realised there must be so many more children who had also lost a parent who served in the British Armed Forces but hadn't had that opportunity to smile again. She decided to set up the charity Scotty's Little Soldiers to do just that, to help their children smile. That was back in 2010 and since then Scotty's has continued to grow and the support available to the children has developed. In 2019 alone, Scotty's supported 410 children across the UK.