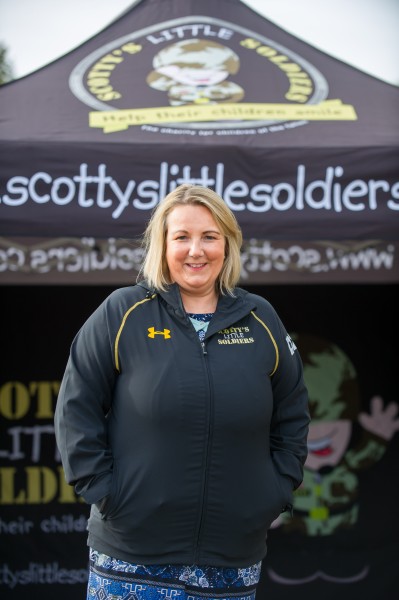 Scotty's Little Soldiers, the charity dedicated to supporting bereaved Forces children, has appointed a new Fundraising Manager who will champion volunteering and community fundraising for the charity across the UK.
Tammy Green, who joins the charity as Community Fundraising Manager, will be heavily focused on creating Volunteer Fundraising Groups across the country together with recruiting volunteers to help with a range of support roles within the charity.
Tammy, who has over 15 years' experience within the charity sector, is keen to speak to people across the country who would be willing to help support a worthy cause, which depends heavily on its volunteers.
She said: "Over the last 15 years I've worked for some large charity organisations such as RNLI and Sue Ryder, and I hope the skills and knowledge I've gained over the years will be a great asset to Scotty's. What first attracted me to the charity was the amazing support it offers its members. Being a mum myself, it really resonated. I can't imagine what it would be like to lose a parent at such an early age. I know from speaking to members how important Scotty's is to them and how having that support available has helped build new memories.
"My current focus area for the charity is Scotty's in the community, setting up Volunteer Groups across the UK where like-minded people come together to help support one great cause. We're also looking for volunteers who can help with a wide range of activities from attending charity collections through to office support such as compiling reports, administration or even helping us keep the office nice and clean."
Scotty's CEO Stuart Robinson said: "As Scotty's continues to work closely with our bereaved British Forces children and young people, we sadly see more and more gaps in the support available to them. We have some fantastic plans to help fill these gaps but of course these projects need funding. We are so pleased that Tammy has come onboard to help boost our fundraising efforts. Her previous experience is going to help the charity reach the next level and allow us to provide the support the children of our fallen heroes truly deserve."
Founded in 2010 by war widow, Nikki Scott, Scotty's Little Soldiers now supports over 300 children across the UK who have lost a parent while serving in the British Armed Forces. Nikki lost her husband and father to her two children, Corporal Lee Scott, in 2009 after he was killed in Afghanistan. She witnessed first-hand how losing a parent at such a young age impacted her children.
She said: "It's so important as a small charity that we are able to keep our costs as low as possible and the only way we can do this is by relying on the amazing British public fundraising and volunteering for us. Our volunteers are crucial to the success of Scotty's and there are so many ways people can get involved – it could be a day, a week or even just an hour, it all helps!"
For more information or to enquiry about volunteering for Scotty's please visit www.scottyslittlesoldiers.co.uk/volunteers
-Ends-
Notes to editors
To speak to a member of the Scotty's Little Soldiers team, please contact Scotty's national PR agency: Claire Grew (claire@wolfstarconsultancy.com) or Chris Grayson (chrisg@wolfstarconsultancy.com) 0113 273 7816
About Scotty's Little Soldiers
Scotty's Little Soldiers, founded in 2010, honours Corporal Lee Scott's memory – both as a loyal soldier and a loving father – and provides a practical yet personal way for the public at large to show their appreciation for those brave individuals who make the ultimate sacrifice in the service of their country. Currently Scotty's Little Soldiers supports 331 bereaved children and runs a variety of programmes to help children smile again and look forward to a brighter future. You can visit the charity online at http://www.scottyslittlesoldiers.co.uk/