This May, the Taxi Charity for Military Veterans would have been taking WWII veterans to 75th anniversary Dutch Liberation in the Netherlands and VE Day celebrations in London. Sadly, these events had to be cancelled due to the COVID-19 restrictions, so the charity arranged for a special gift commemorating the 75th anniversary of VE Day to be delivered to over 120 WWII veterans.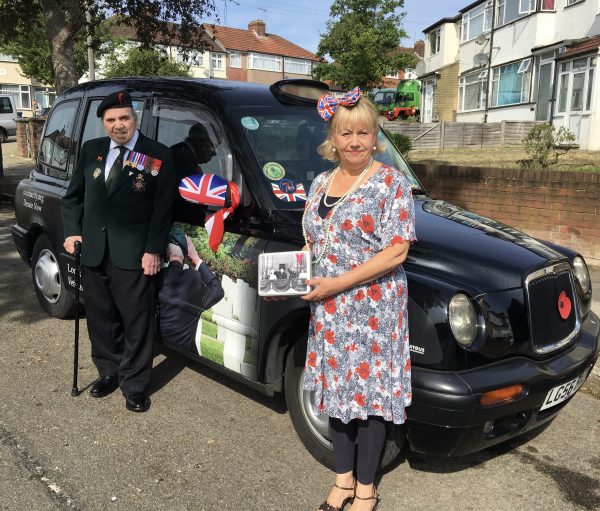 On VE Day, Ian Parsons, Chairman of the Taxi Charity and his wife Anne Parsons, delivered a commemorative VE Day 75 tin to WWII veteran, Harry Rawlins in Edgware. Harry was in the 8th Armoured Brigade, 30 Corps and was part of Operation Market Garden in September 1944. Every year Harry joins the trips organised by the Taxi Charity to the Netherlands for the Arnhem commemoration services.
Ian Parsons, Chairman of the Taxi Charity, said,
"Ensuring our veterans know that the Taxi Charity is thinking about them during this unprecedented time is so important to everyone at the charity. We know how disappointed the WWII veterans were that the events to celebrate the 75th anniversary of VE Day here and across Europe had been cancelled so we were keen to provide them with a commemorative gift. It was really special to be able to deliver this gift to Harry on VE Day and thank him for all he did for this country."
WWII veteran Harry Rawlins, said,
"The Taxi Charity are truly a lifeline. For many years I have joined the charity on trips to the continent to pay my respects to the comrades who didn't come home. It was lovely to see Ian and his wife Anne on VE Day and to receive such a thoughtful gift."
To read more about the Taxi Charity visit www.taxicharity.org
Notes to Editors
The VE Day commemorative gift, specially designed for WWII veterans by the charity, is a metal tin depicting the famous Buckingham Palace balcony image, containing sweets and chocolates, that were available in the 1940's, and a VE Day 75 anniversary pin badge donated by The Spirit of Normandy Trust. The VE Day gifts are being distributed to WWII heroes by volunteer London Licensed black cab drivers who do so much throughout the year to support veterans and have gone above and beyond during the pandemic restrictions.
Harry Rawlins has the Croix de Guerre 1940 with Palm – the certificate reads:
As a Rifleman, and then as a Section Comdr., this man took part in a number of patrols during the liberation of France and Belgium, two of which owed their success to his personal courage and leadership.
As a Bren Gunner on one occasion, he acted entirely on his own initiative by engaging enemy who had pinned a Section down exposing himself to considerable danger, he neutralised the enemy fire, released his section and paved the way to a successful attack.
He was presented with the Legion D'Honneur, France's highest military honour, in 2015.
About the Taxi Charity
The Taxi Charity for Military Veterans was formed in Fulham in 1948, to work for the benefit, comfort and enjoyment of military veterans and arranges many trips every year for veterans from all conflicts.
The charity offers international trips to The Netherlands, Belgium and France, UK day trips to concerts or museums, transport to attend fundraising events, as well as special days out to catch up with friends and comrades.
To fund and facilitate these outings, the charity is wholly reliant on generous donations from members of the public, businesses and trusts and the amazing group of London licensed taxi drivers who offer their time and vehicles free. www.taxicharity.org