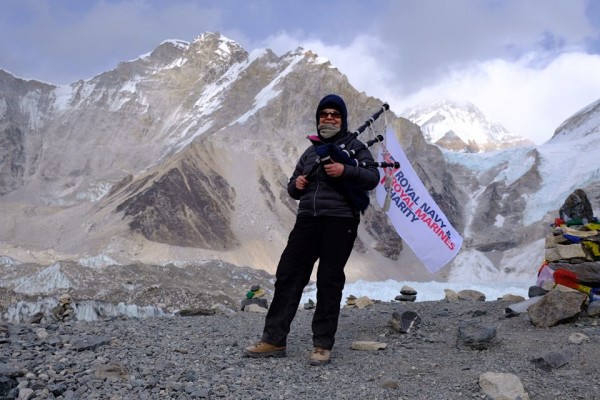 A globe-trotting fundraiser has completed her biggest challenge after climbing the infamous Mount Everest.
Royal Navy and Royal Marines Charity (RNRMC) fundraiser, Irene Robinson, began her ascent up Mount Everest in early February and took 8 days to reach base camp.
Ms Robinson, from Poole in Dorset, had to face bitter temperatures of -14 degrees while battling the tough altitude on Everest.
Describing her challenge, Irene said:
"It took every ounce of physical and mental strength that I had to push myself to reach Base Camp.
"It was bitterly cold, my drinking water had frozen and I couldn't feel my fingers but I was ecstatic to be at the top of the world with my bagpipes, while flying the RNRMC flag."
Irene was once again raising money for the Royal Navy and Royal Marines Charity – the national of the Royal Navy.
No stranger to a challenge, in 2016 Irene travelled over 50,000 miles; visiting 7 continents while playing her bag pipes and helping to raise an incredible £10,000 for the RNRMC in the process. However, according to Irene, her Everest expedition was both "physically and mentally" the hardest thing she has faced.
Yet, like before, Irene once again managed to play her bagpipes in another of the world's most extreme locations. She explained:
"I played my pipes at 'The Good Luck hotel' tea house in Lobuche – much enjoyed by the locals.  But the pipes do not sound their best in extreme temperatures!"
Describing what she will remember most about the challenge, Irene recounted:
"I will never forget the magnitude, splendour and feeling of isolation at being in the Khumbu Glacier surrounded by the magnificent Himalayas.
Trekking back, we saw the most beautiful sunset on Everest that will be forever in my mind's eye."
Having visited many of the world's most beautiful yet dangerous places, Irene is now just happy to relax and reflect on her adventure. She said:
"I'm looking forward to completely feeling myself again, reflecting on what I have achieved and enjoying how grateful I am that it's been such an incredible, once in a lifetime journey."
Recently recognised at an RNRMC Supporters' Reception, Irene has been an exceptional representative for the charity and has been wholly committed to helping support the naval family through adventurous fundraising.
Discussing what fundraising for the Royal Navy and Royal Marines Charity means to her, Irene said:
"It means the world to me to do this for the RNRMC.  I have continually been inspired by the stories I hear and the people that I have met through the charity.
"My incentive for this challenge was to raise a RNRMC flag at Everest Base Camp, and now I've done it."
The Royal Navy and Royal Marines Charity have been the national charity of the Royal Navy for over ten years. In that time, enthusiastic fundraisers like Irene Robinson have helped to contribute to the £51 million that the charity have distributed to sailors, marines, veterans and their families.
*ENDS*
NOTE TO THE EDITOR
For more information please contact Fred Stonehouse, Press, PR and Media Executive, Royal Navy and Royal Marines Charity.
E: fred.stonehouse@rnrmc.org.uk  P: 02393 871540/ 07736587299
*High resolution pictures available upon request. *
ABOUT THE CHARITY
The Royal Navy and Royal Marines Charity is the principal charity of the Royal Navy. It exists to support sailors, marines and their families, for life.
Its group of charities includes the Royal Marines Charity, the Royal Navy Officers' Charity and the Naval Service Sports Charity.
Since 2007, it has funded projects and facilities that boost morale for those who serve today. It also distributes millions of pounds annually to military charities which care for the children, families and veterans of the Royal Navy and Royal Marines.
For more information on the Royal Navy and Royal Marines Charity, call 023 9387 15020 or visit www.rnrmc.org.uk