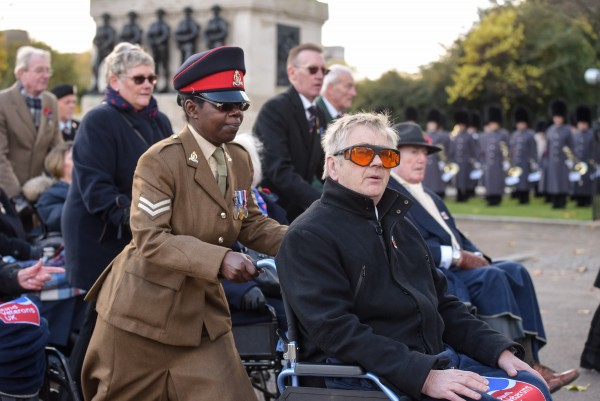 A blind veteran from Lancashire has marched at the Cenotaph in London on Remembrance Sunday (12/11) with the charity Blind Veterans UK.
Graham Ward, 59 and from Fleetwood, marched with more than 100 other blind veterans supported by Blind Veterans UK, the national charity for vision-impaired ex-Service men and women.
Graham says: "This was my second year marching and it was very different to my first time. Not only did I know a lot more people this year, but I was able to attend with my partner and fellow blind veteran, Lindy, who I actually met through the charity, so it was a special day for us both.
"Marching with Blind Veterans UK is such a wonderful occasion, a true family affair. I was so nervous the night before, worrying about marching in step, being dressed properly and so on. In the end, I decided to go in a wheelchair, which was a fantastic idea as I was able to properly enjoy the day without having to stress too much about anything else!"
Graham served in the Royal Air Force (RAF) from 1975 to 1976, serving at RAF Wittering, Cottesmore and Brize Norton as a Steward. He recalls: "I was only a young boy on entry, just 16 and a half. But I made some good memories and some great friends, many of whom I'm still in contact with."
Graham was discharged as a Leading Air Craftman in 1976, but it wasn't until 3 January 2005 that he was diagnosed with glaucoma. He explains: "I was in the hospital, recovering from a heart attack, when I lost all the sight in my left eye. I remember thinking to myself, 'It's OK, I've still got my right eye so I'll be fine'. Unfortunately, however over the past ten years that has started to deteriorate too.
"I've now got no peripheral vision, it's like looking through the eye of a needle. It was extremely hard to come to terms with."
It was in 2013 that Graham came across Blind Veterans UK, and it is the support of the charity that he says has been crucial in his acceptance of his sight loss. He recalls: "I came across Blind Veterans UK purely by accident. I was being trained to use a white stick by social services when they mentioned that I could be eligible."
Soon after visiting an eye specialist at the charity's headquarters, Graham became a part of the charity, a moment he recalls as being profoundly bittersweet. He explains: "It was fantastic news to hear I'd been accepted by the charity, but at the same time, I'll never forget being told that it was inevitable I'd lose my remaining sight."
Since becoming a part of the charity, Graham has immersed himself in the variety of activities available. He says: "I'm not hugely sporty, but other than that I've been doing anything and everything I can, including visiting its training and rehabilitation centres and taking part in Art and Craft weeks."
The charity has also provided Graham with a range of equipment. He explains: "The list is endless; I've received magnifiers, glasses, talking scales, talking telephones and talking watches. I can now add onto that list, girlfriend, and yes, she talks too!"
Aside from the equipment, Graham maintains that the emotional support he's had has been of paramount importance. He says: "Getting out of depression was key for me. It set in really badly during the first couple of years, and it was Blind Veterans UK that helped pull me out of that.
"Before the charity came along I was just sitting in my house all day, staring at the walls and trying to make of life what I could, but the motto of the charity is life after sight loss and that's how I've started to live my life. You get out there and do the best you can."
Graham continues: "I've had a better life since losing my sight than I had before. I've met some really nice people who've been through a lot worse than I did. At the end of the day my sight loss is age-related, but so many of the charity's veterans have lost their sight while serving in horrendous incidents. For me, it helps put things into perspective."
Graham marched with other vision-impaired ex-Service men and women supported by Blind Veterans UK as part of the national Remembrance Sunday commemorations in London on Sunday 12 November 2017. Specsavers stores across the UK fundraised from 6 to 12 November on behalf of Blind Veterans UK to help Graham, and others like him, march at the Cenotaph.
Specsavers has supported Blind Veterans UK since 2012 and, as well as raising money for the charity, have referred a number of customers to them so they can access its support.
Chief Executive of Blind Veterans UK, Major General (Rtd) Nick Caplin CB says: "Remembrance Sunday is always a very poignant time for our blind veterans and it is fantastic that Specsavers were able to support them to get to march at the Cenotaph.
Blind Veterans UK is the national charity for blind and vision-impaired ex-Service men and women, providing vital practical and emotional support to help veterans discover life beyond sight loss. The charity estimates that there are currently 59,000 blind veterans that would be eligible to access its specialist support, most of whom are not currently aware of it.
If you, or someone you know, served in the Armed Forces or did National Service and are now battling severe sight loss, find out how Blind Veterans UK could help by calling 0800 389 7979 or visiting blindveterans.org.uk.
For all media enquiries please contact: Felix Arbenz-Caines, PR Assistant, Blind Veterans UK, 12 – 14 Harcourt Street, London W1H 4HD, E: felix.arbenz-caines@blindveterans.org.uk, T: 020 7616 7941
Notes to Editor
Blind Veterans UK
Blind Veterans UK is a national charity that believes that no-one who has served our country should have to battle blindness alone. It provides blind and vision-impaired ex-Service men and women with lifelong support including welfare support, rehabilitation, training, residential and respite care.
Find out more at: www.blindveterans.org.uk, and follow us on Facebook at: facebook.com/blindveteransuk and on Twitter at: twitter.com/blindveterans.