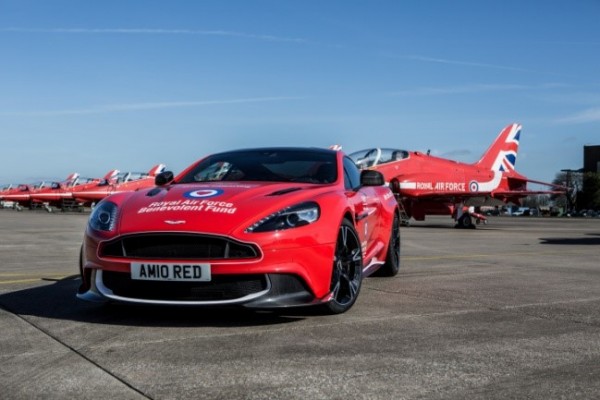 The RAF Benevolent Fund launched the exciting raffle to win the limited edition car earlier this year. The car is worth £275,000 and tickets to win it are just £20, with all proceeds going towards the RAF's leading welfare charity in support of the RAF Family, past and present.
The car will visit Canary Wharf in November as part of the area's Remembrance Day commemorations this year – sited on Reuters Plaza. Plus members of the Red Arrows team including pilots and Red 1 Sqn Ldr David Montenegro and 'Blues' – engineers and other support staff – will be visiting the car on November 1 to help sell tickets.
The Vanquish Red Arrows edition cars were commissioned by Aston Martin Cambridge earlier this year as a unique tribute to the Royal Air Force Aerobatic Team. Celebrating two of the most iconic marques in British history and engineering, the car marries the exceptional craftsmanship and unforgettable driving experience of an Aston Martin with the iconic Red Arrows brand.
The Vanquish S Red Arrows car boasts a number of special features that echo the Red Arrows themselves, including a white 'flash' on the sides, complemented by white and blue carbon details.
All ten cars have been finished in a specially created colour called "Eclat Red", the same applied to the RAF Hawk trainer aircraft. Inside there are yet more features that echo the aircraft such as the green webbing seatbelts, the RAF logo featuring on the dashboard, and even the door cards have been modified to show a graphic of the "Vixen Break" nine aircraft formation.
Air Vice-Marshal David Murray, Chief Executive of the RAF Benevolent Fund, said: "We've been overwhelmed by how many people have engaged with the raffle to date, and it's been amazing to receive our finished Red 10. Someone, anyone, could be the owner of this limited edition Aston Martin car and that's a very exciting prospect. By buying just one ticket someone will not only have the chance to drive away in the ultimate sports car, but will also be offering vital support to help current and former members of the RAF in their time of need."
Simon Lane, Dealer Principal at Aston Martin Cambridge, added:  "The Aston Martin Vanquish S Red Arrows Edition is a stunning example of what can be achieved by Q.  By collaborating to bring Aston Martin and the Red Arrows together in this unique way, we feel it is a fitting tribute to the very best of British achievement and engineering prowess.  Each of the cars is a stunning example of automotive excellence and design aspiration and will offer their owners a truly unique motoring experience in the years to come."
Former corporal Stuart Robinson became an RAF Benevolent Fund Ambassador after the charity stepped in to help when he received life-changing injuries in an IED attack in Afghanistan. He commented: "I have been fortunate enough to have been supported by the Fund since sustaining my injuries in 2013 and their help has enabled me to live a normal life as a husband and a father. Their help has quite literally changed my life.
"Having seen first-hand what a difference the Fund makes to both our veterans and those serving today, I know support from companies like Aston Martin Cambridge means this kind of work can go on, helping as many members of the RAF Family as possible."
Lucie Moore, Arts and Events Manager at Canary Wharf Group, said: "We are delighted to host the Vanquish S Red Arrows car and help our friends at the RAF Benevolent Fund to raise funds for the amazing work that they do to support of the RAF Family, past and present. Canary Wharf Group work closely with a number of military charities during the Remembrance period."
Tickets can be bought directly from the RAF Benevolent Fund website (www.rafbf.org/red10). The raffle is open until 1 December 2017 with the draw taking place on 8 December 2017, subject to T&Cs.
-ENDS-
For further information, please contact:
Rebekah Sharrock, RAF Benevolent Fund on 020 7307 3305 or 07595 657979 or rebekah.sharrock@rafbf.org.uk
Notes to Editors:
RAF Benevolent Fund: The Royal Air Force Benevolent Fund is the RAF's leading welfare charity, providing financial, practical and emotional support to serving and former members of the RAF, as well as their partners and dependants. We help members of the RAF family with everything from disability, injury, financial hardship and youth support to living independently and providing dignity in retirement.  For more information visit:  www.rafbf.org Twitter: https://twitter.com/RAFBF 
Raffle terms and conditions: https://www.rafbf.org/red10/raffle-faqs