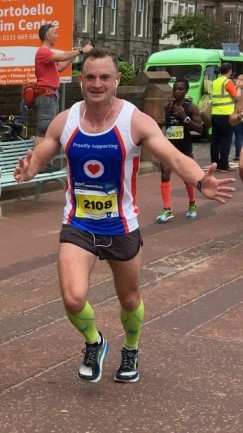 A serving Corporal, based at RAF Lossiemouth, has set himself an ambitious challenge that will see him run 100 official marathons, with his last ever race falling in April 2018 and coinciding with the Royal Air Force centenary.
Jon Ward, a Logistics Mover by trade, ran his first ever marathon back in 2007, when he took on the 26.2 mile race in London, completing it in four hours 56 minutes.
It was two years ago, however, that Jon set his sights on joining the exclusive 100 marathon club. A challenge which would pay homage to his career in the Royal Air Force as he aims to complete his last ever race on the centenary of the RAF.
Since then, Jon has completed marathons in 17 different countries across the world, including Greece, America, the Caribbean and not forgetting The Falklands, whilst on deployment.
Jon is now more than half way through his challenge, and is ready to take on his 75th race in Kent.
Jon, who was born in Hereford, says: "For me this was a personal challenge that I feel very motivated to complete. Yes I have to fit it in around my job as a Logistics Mover, but what better way to mark 100 years of the Royal Air Force then with a 100 Marathons.
"I will push my body to the limits. From my first ever marathon, to now, there's been a dramatic improvement. My personal best has been 3:01, which meant I qualified for Boston Marathon, so hopefully I'll be ticking that off the list soon too. I'm really focused on getting a sub three now."
On supporting the RAF's leading welfare charity, Jon says: "I have been fortunate that I have never needed support from the RAF Benevolent Fund, but being a serving member of the RAF, I see first hand how the charity supports the entire RAF family, so it seemed like a natural fit for me to raise funds for them. And who knows, after I've completed this challenge my legs may give up so I may need their help after all!"
Speaking about his training, Jon admits: "I'm not training in between the marathons at the moment I just rest. The only fitness I do is at the gym. I'm really into my weight training.
"I don't look like a stereotypical runner. Through my weight training I've manged to keep my muscly physique and I think that's been my secret to remaining injury free."
Louise Gibson, Head of Fundraising at the RAF Benevolent Fund, said: "Without the generous support of people like Jon we wouldn't be able to do the work we do. Having taken part in a marathon myself I know how much training and hard work goes in to it but I cannot imagine taking on 100! I'd like to wish Jon the best of luck with the remainder of his challenge and thank him for choosing to support the RAF Benevolent Fund."
ENDS
Notes to the Editor:                           
For more information please contact: Brooke Harrison-Davies at brooke.harrison-davies@rafbf.org.uk or 020 7307 3351.
RAF Benevolent Fund: The Royal Air Force Benevolent Fund is the RAF's leading welfare charity, providing financial, practical and emotional support to serving and former members of the RAF, as well as their partners and dependants. We help members of the RAF family with everything from disability, injury, financial hardship and youth support to living independently and providing dignity in retirement.  For more information visit:  www.rafbf.org Twitter: https://twitter.com/RAFBF