SSAFA, the Armed Forces charity, is delighted to announce the partnership with Morgan Sindall Infrastructure for the iconic Armed Forces Day event, 13 Bridges Challenge.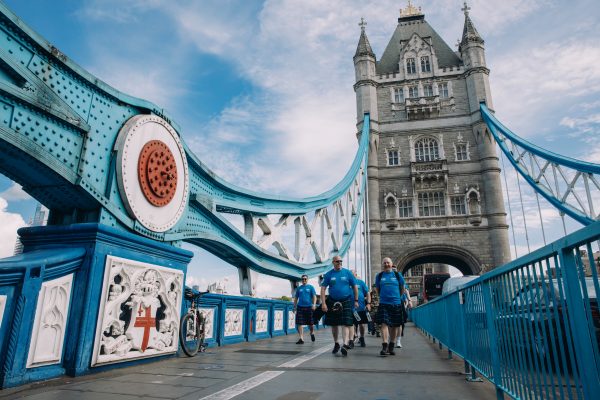 Morgan Sindall Infrastructure, one of the UK's leading civil engineering contractors, is kindly providing SSAFA with all of the event infrastructure necessary for the day.
SSAFA's flagship event, the 13 Bridges Challenge, happening on the 24th June, takes walkers through all the iconic London sights, including Tower Bridge and London Bridge, and passes the Houses of Parliament, Big Ben, Westminster Palace, Shakespear's Globe theatre, and many more on the 10 mile walk.
The 13 Bridges Challenge is open to all ages and abilities, and the route is entirely wheelchair accessible. The walk is fully guided, with SSAFA team-leaders looking after participants every step of the way. Logistics support and everything from generators to porta-loos will be supplied by Morgan Sindall Infrastructure and their supply chain partner, Econ Group. Members of the Armed Forces are also on hand to give guidance and assistance to those who need it.
Hannah Siddle, Senior Challenge Events Officer, said:
"We are so grateful to Morgan Sindall Infrastructure for their continued support of 13 Bridges Challenge. For the last two years they have provided the essential infrastructure, without which the event would not be possible. We are so excited to have their support for the third year in a row, making the 2023 13 Bridges Challenge, the best one yet!"
SSAFA has chosen Armed Forces Day to run the annual event to raise awareness of the outstanding effort Britain's Armed Forces contribute to the country. During times of national emergency, the Armed Forces regularly step in to assist the nation and, in times of conflict, they willingly put their own safety to one side and step up to support their country. The 'F' in SSAFA stands for Families. It is often the families of serving personnel who suffer difficulties resulting from service life. From moving regularly, being far away from family and friends, to the loss of a loved one, life in a military or naval family can be tough. SSAFA supports those families in their time of need.
Sir Andrew Gregory, SSAFA Controller, said:
"SSAFA's 13 Bridges Challenge, held on Armed Forces day each year, is the main opportunity in London to thank servicemen and women for their selfless commitment to our nation.

"In 2022 over 350 people had a most enjoyable walk from the Tower of London to Putney, raising much needed funds that allow SSAFA to help our Armed Forces, veterans and their families in their times of need. In 2023, we hope to have 1,000 participants; come and be one of them!"
SSAFA is still open to corporate sponsorship and teams for this event. Please contact Hannah Siddle for more information: Hannah.Siddle@ssafa.org.uk