A support service launched by a group of charities has helped almost 15,000 members of the Armed Forces community despite being set up less than a decade ago.
The Armed Services Advice Project – or 'ASAP' for short – was launched in 2010 and is, in large part, funded by Poppyscotland. The charity works in partnership with the Scottish Association of Citizens Advice Bureau, which, through trained advisers, offers specialist guidance on a wide range of issues including benefits, debt, housing and employment. The service operates in 11 regions of the country – from Ayrshire to Aberdeen – and it is estimated that for every £1 of funding received, there is a client financial gain of £4.05.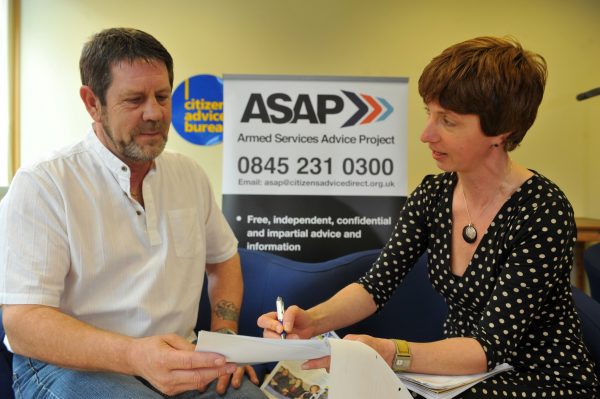 Peter said:
"Through the help of ASAP and Poppyscotland, it has come to the point where I have now got a pension. This has really helped me out of the bad financial situation I was in. It means that I can now pay my bills and buy the food that we need. The help is out there, and the Armed Services Advice Project can support veterans like me. I am more than certain that if it had not been for ASAP I would not have been where I am today."
Gary Gray, the Head of Welfare Services at Poppyscotland, said:
"Those in the Armed Forces community face many of the same day-to-day challenges as those from other walks of life. However, numerous issues are specifically related to their time in Service and their transition into civilian life.

"We know access to tailored information, advice and support is vitally important, and ASAP has made a massive difference to the lives of thousands of veterans and their families over the course of the past nine years. Since taking the service national, we have helped a total of 14,793 clients with almost 80,000 new and repeat issues."
Other organisations that also provide vital funding and support for the service are the Royal Air Force Benevolent Fund; Officers Association Scotland; Royal Navy & Royal Marines Charity; ABF The Soldiers' Charity; and SSAFA The Armed Forces Charity.
Citizens Advice Scotland Chief Executive Derek Mitchell said:
"The Scottish Citizens Advice network is there to offer advice and advocacy on behalf of everyone in Scotland, and we are proud that for almost a decade now we have run the specialist Armed Services Advice Project.

"The scheme has been a real success story over the past decade with thousands of people helped and more money going back into the pockets of people across the country. Members of the Forces and their families make tremendous sacrifices for their communities and their country. The least we can do is play our part in ensuring they get the advice and support they need."
To get in touch with ASAP, please call the helpline on 0808 800 1007 from Monday to Friday, 9am to 5pm. For more information, please visit the ASAP website at www.adviceasap.org.uk/.
Notes to Editors
For further information and all media enquiries, please contact David A. Findlay, PR Manager at Poppyscotland, on 079797 35611, or email at d.findlay@poppyscotland.org.uk.
All images are free to use. No credit(s) required. Details as follows:

Image 1 is a generic picture of an ASAP advisor chatting to a veteran
Image 2 is of Peter Duff
Image 3 is of Peter Duff during his time in Service
Image 4 is of an ASAP advisor (Lorraine Reid) who is based in Fife.
For more information on the Armed Services Advice Project (ASAP), please visit www.adviceasap.org.uk/.
Poppyscotland provides life-changing support to the Armed Forces community. Money raised from the Scottish Poppy Appeal and Poppyscotland's year-round fundraising enables them to deliver support to members of the Armed Forces community in Scotland by providing tailored funding and assistance. The charity also funds services in advice, employment, housing, mental health, mobility and respite. Please note that we are known as "Poppyscotland", and not "PoppyScotland" or "Poppy Scotland". For more information, please visit us at: www.poppyscotland.org.uk.