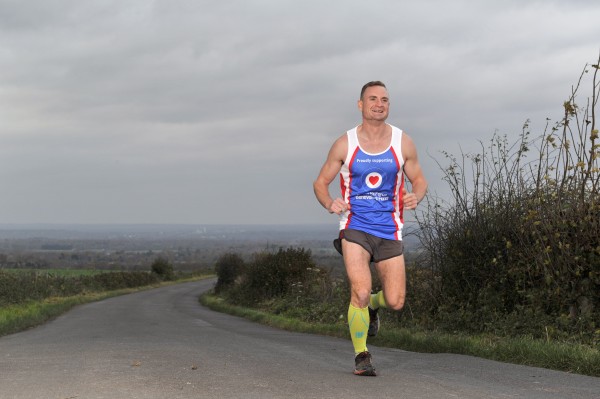 Today, marathon man Corporal Jon Ward has completed his 100th official marathon in Gravesend, Kent, to mark the Royal Air Force centenary and support the RAF's leading welfare charity, the RAF Benevolent Fund.
Since his challenge began, Jon, who is based at RAF Lossiemouth, has gone through seven pairs of trainers, racked up more than 374 hours of race running in 18 different countries and shaved more than two hours off his finish time.
Jon's first ever marathon was in London back in 2007, completing it in four hours 56 minutes but since then he's achieved a personal best of two hours 59 minutes.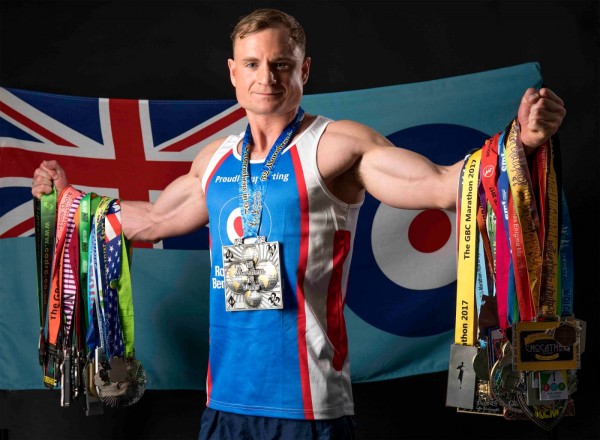 It was in 2016 though, when Jon had 10 marathons under his belt and had well and truly caught the runners bug, that he set his sights on a challenge far greater; to join the exclusive 100 marathon club. So to pay homage to his career in the RAF, his aim was to complete 100 official marathons, with his last-ever race falling on the 1 April, a 100 years to the day that the RAF was formed.
Jon has juggled his century challenge around his busy schedule as a Logistics Mover and admits he's made sacrifices along the way, running an impressive 53 races in 2017 alone.
Jon explains: "When people hear about my challenge, they assume that it's not tough for me, that it's easy. But what they don't see is how many hours of my life I've dedicated and how I put everything into every single race. They don't see both the personal and the financial sacrifices I've made.
"And now it's done, all I really want to do is enjoy a good old pint with my Dad!"
Many have asked what's next for the Hereford-born Corporal? Surely it's time for a break?
Jon, 32, says: "Now it's all done there is an element of relief. I set myself this amazing, but let's face it, crazy challenge and now it's come to an end I feel a great sense of pride.
"Anybody who knows me knows that I'm a glutton for punishment, so I've already signed up for Paris and the Edinburgh marathon. Not to mention the 212-mile ultra marathon as well, I think I've got plenty in the pipeline to keep me occupied.
"And the icing on the cake was when I found out I will be representing the Royal Air Force at the inter-services championship on 22 April at this year's London marathon. I could never have imagined I would get to wear the RAF vest when this whole journey started so I am thrilled."
Spurring Jon on in this incredible challenge is his target of raising money for the welfare of his fellow RAF comrades and retired RAF veterans, by supporting the RAF Benevolent Fund. Since 2016, the Fund has spent more than £500,000 at RAF Lossiemouth supporting personnel like Jon with a range of issues, from individual grants, to relationship counselling.
Jon was joined by his Mum, Dad and friends, who proudly cheered him on and waited at the finish line with an RAF 100 cake, champagne and an Irn Bru, which has been Jon's post-race ritual since he moved to Scotland.
John Trampleasure, Director of Fundraising and Communications at the RAF Benevolent Fund, said: "We are so delighted to hear Jon has completed his incredible challenge of running 100 marathons to mark the RAF's centenary. He has shown great determination, commitment and boundless energy and we are so proud that he chose to support us throughout. I'd like to thank him on behalf of everyone at the RAF Benevolent Fund."
If you would like to sponsor Jon you can visit his Just Giving page at www.justgiving.com/fundraising/jon-wardraf100challenge
ENDS
Download hi-res images: https://www.dropbox.com/sh/lknbo9qs6p4b6k8/AADKWAcWFn3Sci4zAS0ujuuna?dl=0   
For more information please contact: Brooke Harrison-Davies, Communications Executive at RAF Benevolent Fund, E: brooke.harrison-davies@rafbf.org.uk | T: 020 7307 3351 | M: 07825 172447
RAF Benevolent Fund: The Royal Air Force Benevolent Fund is the RAF's leading welfare charity. We exist to support current and former members of the RAF, their partners and dependants, whenever they need us. In 2017 we spent £17.6m supporting more than 55,000 members of the RAF Family. For more information visit:  www.rafbf.org Twitter: https://twitter.com/RAFBF