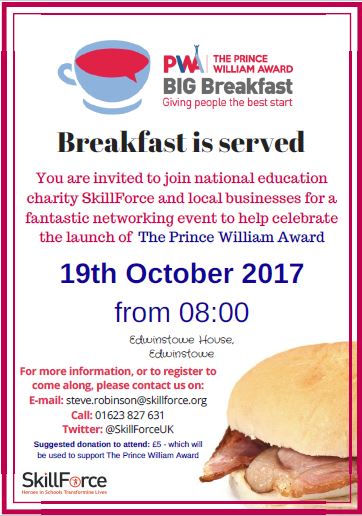 You are invited to join national education charity SkillForce and local businesses for a fantastic networking event to help celebrate the launch of The Prince William Award
Breakfast is served!
What: We are hosting a networking breakfast to meet friends and business colleagues in the locality/region
When: 0800 – 0930 on Thursday 19th October, 2017
Where: At Edwinstowe House, DH Lawrence Room (next to the restaurant)
Who: Everyone working in Edwinstowe House (and guests) and local and regional companies are invited. Sign up here
Why: To network with business colleagues in the locality/region and at the same time, make a small contribution to the new Prince William Award – a new programme delivered mainly by ex-Service personnel, encouraging children and young people aged 6 —14 years to develop their character and resilience, achieve their potential, thrive and prosper.
Contribution: £5 per person
Reply: To assist with catering numbers, please Sign up here or contact Steve at  steve.robinson@skillforce.org and say how many are attending.
I look forward to meeting you!
Contact: Steve Robinson, 07787 699316 or 01623 827651
Kindly sponsored by: