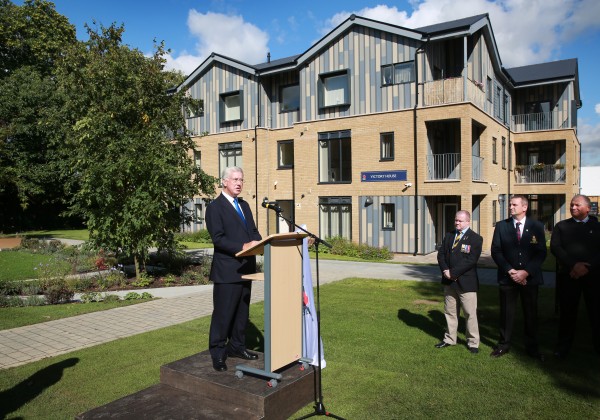 The Secretary of State for Defence, Sir Michael Fallon, has today opened Royal British Legion Industries' new £4m apartments for injured veterans. The apartments, which were funded by the Government through The Libor Fund and four corporate donors, including the Morrisons Foundation, were officially opened at a grand event on Friday with over 250 attendees.
Situated on Hermitage Lane near Maidstone, the apartments have been built specifically for veterans who are wounded, injured, sick, or at risk of homelessness. The houses host 24 one and two-bed flats, all with special adaptations to make the lives of those with disabilities easier.
Named Victory House and Invictus Games House – the latter after the international sporting event for wounded, injured and sick Service personnel, both serving and veterans – the apartments are the first phase in the charity's initial plans to build a Centenary Village which they aim to open in 2019 – their centenary year.
Future plans include the construction of further accommodation, including three and four bedroom houses to ensure service families have a stable home, an assisted living scheme to offer help to more injured and disabled veterans, and a state-of-the-art community centre which will offer welfare, support and training.
Sir Michael Fallon, Secretary of State for Defence, said:
"During their service our veterans have made enormous sacrifices to keep Britain safe and they deserve the very best support. The apartments will provide those veterans in need with a supportive community and accommodation.
"The Government is unwavering in this nation's commitment to our Armed Forces community, and we are extremely proud to work with the RBLI and other charity partners who play a vital role in delivering support services for the men and women of our Armed forces." 
Donors to the village include The Libor Fund from the Government, the Morrisons Foundation, ABF – The Soldiers' Charity and Garfield Western Foundation.
The two apartment blocks, which were designed by Clague Architects, will surround a former gold-medal winning Chelsea Flower Show Garden, created by renowned designer Jo Thompson.  It has been kindly donated by the Chelsea Barracks Foundation, whom also funded the training of two horticulturalists who both now live and work on RBLI's village.
The Morrisons Foundation, a charity set up by the supermarket, made a donation to furnish the apartments with specially adapted equipment for veterans who have serious injuries.
RBLI's Chief Executive Steve Sherry CMG OBE, who served in the Army for 38 years, said there clearly remains a problem with some veterans finding secure and sustained accommodation.
He added: "We have existed for almost a century. In that time, through the collaborative efforts of the military charity community, we have helped thousands of veterans and their families secure employment and housing to stabilise their lives following their transition to civilian life after service.
"This could not have been achieved without the ethos we share with our friends in the military charity sector with whom we do all we can to help our brave servicemen and women on their return to civilian life.
"However, the job is not done. It is crucial that we do not forget that more remain in need of assistance UK wide and that is why we are so eager to make this project happen.
"Veterans, particularly those who are faced with great difficulties due to disabilities, are in need of suitable accommodation to meet their needs, and deserve the very best support to help them after their service.
"This project can provide them with a place they can come to – a place they can call their home. This village will do just that for almost 100 brave service men and women."
With tailored support for each individual, RBLI's village offers superlative care facilities, housing for families and accommodation for single veterans and their dependents.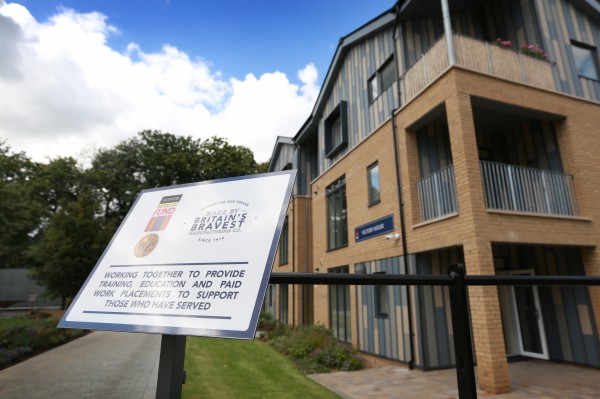 If you or someone you know can benefit from these services, contact RBLI's property services team on 01622 795910, propertyservices@rbli.co.uk or visit www.rbli.co.uk
Case study: Alex Stringer, Royal Logistic Corps, triple amputee
Alex Stringer, who sustained life-changing injuries after stepping on an IED during a tour of Afghanistan in 2013 at just aged 22, moved into Victory House after being referred to RBLI by fellow military charity Blesma following the breakdown of his marriage last year.
The triple amputee, who served in the Royal Logistic Corps, said the opportunity has provided him with a fresh start and he now has a new-found sense of independence.
The 26-year-old said: "I ended up moving out of the family home and into a place which wasn't fully adapted for me.
"I then reached out for help and was pointed out to Royal British Legion Industries, who said they had an opportunity in Aylesford for me to move into a new property that is properly adapted and suitable for my needs.
"I came down to have a look and it was perfect for me. It enables me to get out and about with the kids, which made it a no brainer.
"One of the things that really appeals to me about this place is that the little things have been thought about: the hard floors in the hallways help wheelchairs, as do the lighter doors, wider frames and wet rooms. Most places are built to a certain height for people who walk around, but here everything has been considered."
– Ends –
Editor's notes
We would like to draw your attention to our donors who made this project possible.
LIBOR Covenant Fund
The Libor fund was established after the government fined banks following the conclusion that they had purposefully manipulated rates so that traders could make profits on derivatives pegged to the base rate.  The government determined that the money confiscated should then be used to support Armed Forces and Emergency Services charities and other related good causes that represent those that demonstrate the very best of values.
Morrisons Foundation
The Morrisons Foundationis the charitable arm of the Morrisons supermarket chain and offers a single grant programme. The Morrisons Foundation has been set up to make a positive difference to people living in England, Scotland and Wales. They provide match funding for Morrisons colleagues and offer grants to charities undertaking projects that improve people's lives.  https://www.morrisonsfoundation.com/
ABF – The Soldiers Charity
ABF The Soldiers' Charity, formerly the Army Benevolent Fund, was established in 1944 and is the National Charity of the British Army. It provides financial and practical support to soldiers, veterans, and their immediate families in times of need, as well as making financial grants to a wide network of partner charities and organisations, which deliver specialist support on its behalf. https://www.soldierscharity.org
Garfield Weston Foundation
The Garfield Western Foundation is a family-founded grant making Trust that supports great charities of all sizes across the UK.  It was established in 1958 by Canadian businessman  Garfield Weston (1898–1978), who during his lifetime contributed to numerous humanitarian causes, both personally and through his companies.  https://garfieldweston.org/
For more information about RBLI, photographs or interviews, please contact Nicholas Wesson: Tele: 01622 795992, Mobile: 07500 602008, Email: nicholas.wesson@rbli.co.uk
About RBLI (Royal British Legion Industries)
Established in 1919, Royal British Legion Industries is an independent national charity aiming to provide employment, training and support to members and veterans of the British Armed Forces, their families and dependents; as well as those with a disability or health condition and those who have been long term unemployed.
Royal British Legion Industries is a separate charity from Royal British Legion but has a shared ethos of supporting the Armed Forces community.
About  RBLI Living:
RBLI Living – We offer accommodation, welfare support and convalescent care to more than 300 people in the RBLI village in Aylesford, Kent, providing independent living in a safe and homely environment. The village revolves around a holistic approach: "The Step-In Model" – RBLI's personalised support programme which helps veterans through tailored support, training and evaluation, leading to a sense of independence helping them to achieve their goals.
RBLI's other services:
Britain's Bravest Manufacturing Company (BBMC) – The RBLI social enterprise located on the village,, which directly employs over 120 people, more than 60% of whom are disabled. We manufacture a range of products for both the public and private sector. This generates £5m in revenue meaning that even more employment opportunities are available for injured or impaired ex-forces personnel and people with disabilities and health conditions.
RBLI Employment – Our division providing support to those who are long-term unemployed or have disabilities or health conditions. During 2015/16, more than 2000 people were supported into work, while more than 5000 disabled people have been provided with workplace assessments. Since June 2017, RBLI has delivered a new national Access to Work contract, under which the charity will deliver in excess of 9000 workplace assessments each year.
LifeWorks – Our transformative series of courses that help veterans to identify and build on existing skills in order to find sustained work. Currently, 83% of participants move into employment, training or volunteering within 12 months, and 80% of those are living with a disability, health or mental health condition.
Veteran's Gateway:
On 20 June 2017, The Veterans' Gateway was launched, providing a single point of contact for veterans, via one telephone number and a fully transactional website, to get the support they need. A £2million Armed Forces Covenant Fund grant was awarded to a consortium led by The Royal British Legion, comprising Poppyscotland, SSAFA, Combat Stress, and Connect Assist to create the Veterans' Gateway. As part of the service, advisors are available 24 hours a day; 7 days a week and many are veterans themselves. https://www.veteransgateway.org.uk/
The Armed Forces Covenant:
The Armed Forces Covenant is a promise from the nation, enshrined in law, that those who serve and have served in the Armed Forces, and their families, are treated fairly and face no disadvantage in accessing public and private services (including housing, healthcare, education and employment opportunities), with special provision made for those who have sacrificed the most, including the bereaved and injured. The responsibility for the delivering the Covenant rests with a range of organisations and the MOD therefore works closely with other Government departments, Local Authorities, the Devolved Administrations, and the private and Third sectors to deliver the Covenant.
Clague Architects
Clague is an award winning practice of architects, urban designers, interior designers and historic building consultants working from design-led studios in Canterbury, London and Harpenden. The firm was established over 80 years ago and has a reputation of excellence in architecture and design. http://www.clague.co.uk