Scotty's Little Soldiers, the national charity dedicated to supporting children who have lost a parent that served in the British Armed Forces, celebrated its ninth annual ball in November 2019 raising £32,000 for its members.
Chesford Grange, Kenilworth, Warwick welcomed over 300 guests including service men and women, veterans, families of Scotty's beneficiaries, businesses and individual fundraisers for an evening which celebrated Scotty's Little Soldiers and the work it does for bereaved Forces children.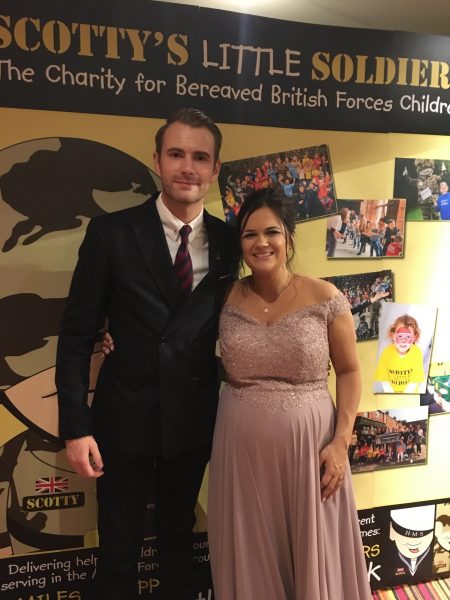 Guests on the evening were entertained by a live performance from 2018's Britain's Got Talent act The D-Day Darlings, coming off the back of their successful debut album. Alongside them was The D-Day Juniors – both groups singing beautiful renditions of wartime classics.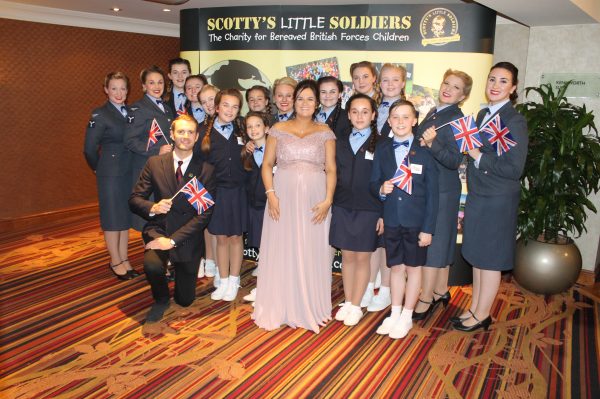 Former Britain's Got Talent winner, Magician Lance Corporal Richard Jones, who is Scotty's Little Soldiers' patron, was also at the event and, as well as drawing the evening's raffle, he also did magic tricks for individual groups of guests. After a delicious three course meal, award ceremony, live auction, raffle and speeches, Scotty's Little Soldiers' favourite band 'The Late Shift' took to the stage and played a host of covers into the night.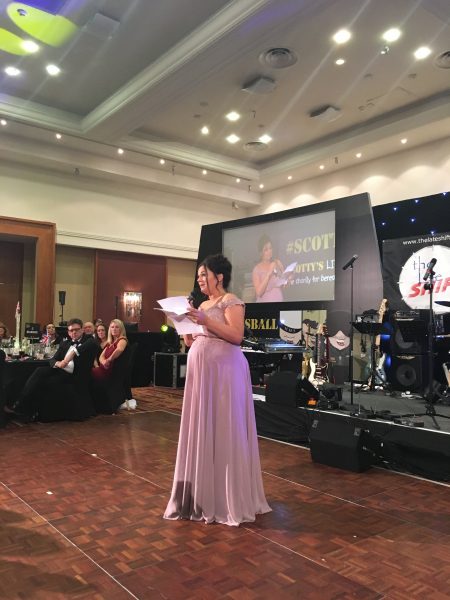 Scotty's Little Soldiers was set up in memory of Nikki's husband and father to her two children, Corporal Lee Scott, after he was killed in Afghanistan in 2009. The charity continues to reach more and more bereaved British Forces families across the UK every year, and this year alone has so far supported 400 children.
Speaking on this year's event, Scotty's founder Nikki Scott said:
"This year's event was particularly poignant as it has been ten years since Lee's death. Seeing his old comrades is always special and once again it was a fantastic evening where people travelled far and wide in order to celebrate and raise money for the charity."  

She continued: "This year the ball itself raised £31,723 and after we announced the total we received a call from someone who attended the ball who wanted to donate an additional £277 to round up the total to £32,000. I'm blown away by people's generosity and want to thank everyone who was a part of the evening – without this kind of effort we simply couldn't provide the support that our members need. Next year we have huge plans for the charity and this year's ball was important to rally our supporters ahead of a big 2020, when we'll be celebrating our 10th anniversary."  
Nikki delivered an emotional speech which was met by a standing ovation from the room; her words covering the impact losing a loved one has and how grief continues years after their death, meaning support must be constant.
Fundraising is vital to the charity and the annual ball is a celebration of individuals and businesses who work hard to ensure it can achieve its goals each year.
This year, the charity handed out awards to the following:
Fundraiser of the Year – Scotty's widow, Jemma Neilson – an outstanding year of fundraising which has seen Jemma raise over £10,000 for the charity. Activity has involved a successful ball, the Great Manchester Run and Great North Run as well as DazFest – a festival in honour of her husband Cpl Darren Neilson.
Craziest fundraiser of the year – Rob Lawrence – deciding to kayak in the most unconventional way, by taking his bath down the River Avon for 24 hours! Rob covered 19 miles, battling the tide and tiredness alongside some "hairy moments", raising £1,500 for the charity.
Scotty's Best Friend – Lee and Mandy Cox – husband and wife Lee and Mandy have been staunch supporters of Scotty's Little Soldiers since 2017. This year the pair have overseen collection pots, coordinated bucket collections, arranged and attended stalls at events, collected cheques and much more. They rightfully claimed the title of Scotty's Best Friend.
Fundraising team of the year – Hindoostan Shooting Club – a tremendous effort from the Club this year, hosting a successful clay pigeon shoot which raised just under £14,000 for the charity.
All donations raised on the night will go towards improving the lives of children who have lost a parent whilst serving in the British Armed Forces and helping them to smile again.
To find out more information or to get involved in raising money for Scotty's you can visit www.scottyslittlesoldiers.co.uk/get-involved/ 
Notes to editors
To speak to a member of the Scotty's Little Soldiers team, please contact Scotty's national PR agency: Claire Lomax (claire@wolfstarconsultancy.com), Chris Grayson (chrisg@wolfstarconsultancy.com), Rochelle Tattersall (rochelle@wolfstarconsultancy.com) or 0113 273 7816.
About Scotty's Little Soldiers
Scotty's Little Soldiers, founded in 2010, honours Corporal Lee Scott's memory – both as a loyal soldier and a loving father – and provides a practical yet personal way for the public at large to show their appreciation for those brave individuals who make the ultimate sacrifice in the service of their country. Currently Scotty's Little Soldiers supports 400 bereaved children and runs a variety of programmes to help children smile again and look forward to a brighter future. You can visit the charity online at http://www.scottyslittlesoldiers.co.uk/