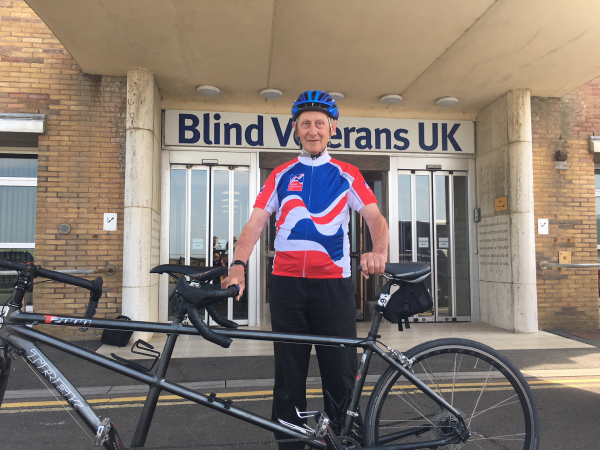 A blind veteran from Brighton has rekindled a lifelong passion for cycling as he prepares for a 24 hour cycle challenge around the iconic Brands Hatch racetrack in aid of military charity Blind Veterans UK.
Peter Burbery, 82 and from Brighton, will take part in the challenge on 16 September with three other blind veterans supported by Blind Veterans UK, the national charity for blind and vision-impaired ex-Service men and women. All four blind veterans will make up a relay team, each undertaking six-hour sections to complete the 24 hour challenge alongside their sighted tandem pilots.
The oldest of his team-mates, Peter says: "My wife thinks I'm mad but I was the first one to sign up. There will definitely be a bit of competitive spirit between all of us – it will be a case of how many laps you've done in an hour.
"I'm a lifetime member of cycling club Lewes Wanderers and before I lost my sight I was racing and touring all the time – I didn't even have a break in the army. My last 24 hours challenge was in 1975 and at one time I held all the place-to-place records with my cycling club. I keep on being told there's a long hill at Brands Hatch and plenty of tight corners but I'm not too anxious. When I was racing I could never do a fast time on a flat course like everybody else could – I had to have a hill in it where you had to try."
Peter joined the Royal Sussex Regiment aged 18 in 1954 and served as Batman to General Sir Lashmer Whistler as part of his National Service. Now living in Portslade with his wife, he worked as an upholsterer following his National Service and was diagnosed with Glaucoma and age-related macular degeneration in 1984.
He explains: "My sight loss was gradual and I eventually packed in cycling because I was noticing things that I should've seen before, distance wise. Now I only have vision in the corner of my right eye. "
The charity has been providing support to Peter since 2011 and he now makes visits to the Blind Veterans training and rehabilitation centre in Ovingdean twice a week. The sports rehabilitation gym at the centre is where he will undertake much of his training: "It's about getting the cycling muscles trim. I'm still keen if it's something to do with cycling – turning pedals around on a bicycle is different to being in the gym!
"When I first started receiving support from Blind Veterans UK, I didn't think that I'd be doing something like this. I was close to getting to the point where I could have said 'no, I can't come shopping, I can't see', but being part of Blind Veterans UK has definitely changed how I think about being vision-impaired.
"I have cycled past the Blind Veterans UK centre on the seafront since the 1950s – like a lot of people I never thought that I'd ever be part of it. I think it's a marvellous place. Actually having somewhere like this on my doorstep is great because I've got facilities like the swimming pool, the gym, and the workshop. Staying active is very important to me."
Registration for the Brands Hatch Revolve challenge is still open. There will be three endurance cycle relay challenges: 24 hour, 12 hour and 6 hour with an entry fee of £25-75. Minimum sponsorship targets start from £140 and are dependent on team size.
To find out more and sign up for the event, please visit blindveterans.org.uk/cyclebrandshatch
For all media enquiries please contact: Ailie MacDonald Wilson, Regional Marcomms Executive, South East, Blind Veterans UK, 12 – 14 Harcourt Street, London W1H 4HD, E: ailie.macdonaldwilson@blindveterans.org.uk, T: 07599 535484
Notes to Editor
Blind Veterans UK
Blind Veterans UK is a national charity that believes that no-one who has served our country should have to battle blindness alone. Founded in 1915, the charity provides blind and vision impaired ex-Service men and women with lifelong support including welfare support, rehabilitation, training, residential and respite care.
Find out more at: blindveterans.org.uk, follow us on Facebook at: facebook.com/blindveteransuk and on Twitter at: twitter.com/blindveterans.