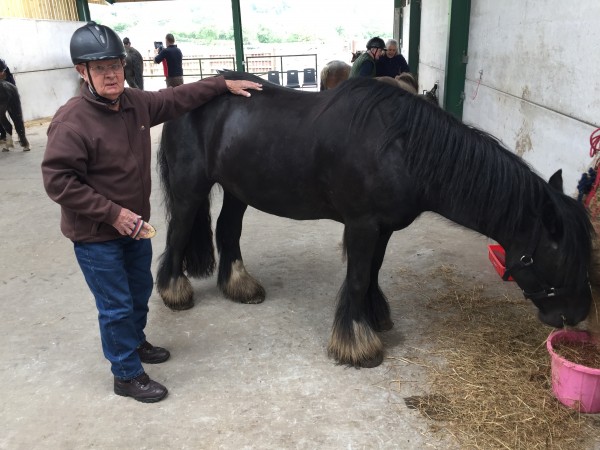 An 84 year-old blind veteran from East Sussex has taken part in a horse riding week organised by Blind Veterans UK, the national charity for vision-impaired ex-Service men and women.
Keith Mann, originally from Kent, attended the course school in Wrexham, near the charity's training and rehabilitation centre in Llandudno, North Wales. He received a Rosette for having attended twice.
He says: "It was actually my second time doing it, my first experience being in early 2016. If anything, this time was better as I was challenged to do a bit more. I was able to try riding different types of horses, different breeds.
"It was a completely different experience, but a fantastic one nonetheless and something I'd love to do again!"
Alongside horse riding, Keith has been able to try out a number of activities since he started receiving support from the charity, which provides free lifelong training and rehabilitation to veterans suffering sight loss. He says: "The first time I went to the charity's Llandudno centre, I was able to try a number of different activities, including going down a zip line. It was brilliant! It's something I'd have never, ever imagined myself doing before, but I'm so glad I did as it was an incredible experience.
Keith's military career saw him join the Royal Air Force in January 1951, qualifying for the medical branch at RAF Bridgnorth. He served in various locations including Headley Court, Moreton-in-Marsh and RAF Tangmere.
Keith also served in the Korean War. He recalls: "We used to fly out to places like Singapore and Korea, picking up the wounded and bringing them home. We'd stop off en-route in Ceylon, Sri Lanka, and make sure they got a good rest."
After returning home from the war, Keith worked in the print industry where he was responsible for showcasing the equipment to potential buyers in the demonstration room.
Unfortunately for Keith, his eye sight has long caused him issues. He recalls: "It started years and years ago, to be honest. It was a throwback from my parents; my mother had issues with her sight so I always knew it was going to happen. In the end I just had to get on with it."
While the story of how Keith lost his sight was gradual, the story of how he came into contact with Blind Veterans UK is anything but. He explains: "My wife was at the hairdressers and a lady had blocked two spaces with her car. After my wife tracked her down, they got talking and found out that the other lady worked at a charity – and not just any charity, one called Blind Veterans UK.
"She recommended to my wife that I get in touch, and the next thing I knew I was at their London office having an assessment."
Since becoming a part of the charity in 2010, Keith has remained an active presence with the organisation's community. He says: "Alongside the scanning equipment that they've given me, which I use to read letters with, I go to their training and rehabilitation centre every Monday with my wife. She's able to guide me from one room to another, and even go off and do her own thing if she likes. I tend to head to the Art and Craft room. I've made some beautiful garden chairs at the Llandudno centre, too, so I'm keen to get involved in any way I can.
"We tend to meet back up for lunch before being taken home by a car. It really is a fantastic charity and everyone I've spoken to can't praise it highly enough."
Blind Veterans UK was founded in 1915 and the charity's initial purpose was to help and support soldiers blinded in the First World War. But the organisation has gone on to support more than 35,000 blind veterans and their families, spanning WWII to recent conflicts including Iraq and Afghanistan.
Blind Veterans UK currently supports over 4,500 veterans, more than ever before in the charity's history. They have set the ambitious target to double the number of veterans receiving its life changing support to over 8,000 by 2022.
For more than a century, the charity has been providing vital free training, rehabilitation, equipment and emotional support to blind and vision-impaired veterans no matter when they served or how they lost their sight. Visit blindveterans.org.uk/support to learn more about the charity and how you can support its vital work today.
ENDS
For all media enquiries please contact: Felix Arbenz-Caines, PR Assistant, Blind Veterans UK, 12 – 14 Harcourt Street, London, W1H 4HD, E: Felix.Arbenz-Caines@blindveterans.org.uk, T: 020 7616 7941
Notes to Editor
Blind Veterans UK
Blind Veterans UK is a national charity that believes that no-one who has served our country should have to battle blindness alone. Founded in 1915, the charity provides blind and vision impaired ex-Service men and women with lifelong support including welfare support, rehabilitation, training, residential and respite care.
Find out more at: blindveterans.org.uk, follow us on Facebook at: facebook.com/blindveteransuk and on Twitter at: twitter.com/blindveterans.