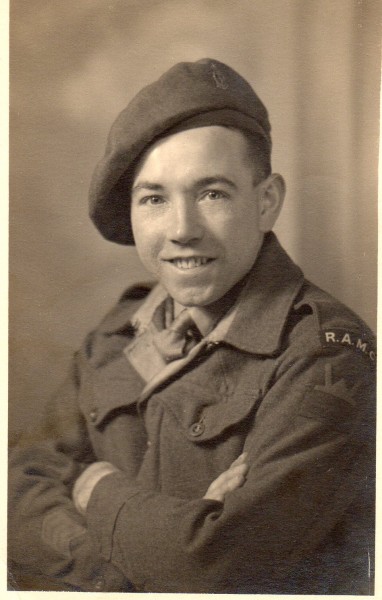 A Second World War blind veteran from Gloucester has been formally presented with the Chevalier de l'Odre National de la Legion d'Honneur for his part in the liberation of France.
Arthur Parish, 99 and from Brockworth, was presented with the honour by Lt Col Andrew Tabor, High Sheriff of Gloucester, at the Millbrook Lodge Care Centre.
Arthur says: "It really is very nice to have this recognition, especially after all of these years. I really wasn't expecting anything like this, not at my age.
"It all happened such a long time ago now but it never leaves you. This medal has triggered many memories for me."
Arthur Served in the Royal Army Medical Corp from 1940 to 1946. In 1944 he was deployed to Northern France as part of the Normandy Landings and Operation Overlord. He arrived on Gold Beach on 10 June 1944 where he was assigned an ambulance and was tasked with ferrying injured soldiers away from the front line.
Arthur was able to share in the occasion with his family who were in attendance. His daughter, Elizabeth, says: "We are all so proud of Dad and of all the men and women of his generation who sacrificed so much during the Second World War.
"I don't think any of us will ever truly understand or appreciate what Dad, and all the other young men fighting alongside him, went through. This medal is a very touching tribute from the French Government and one I know Dad will cherish."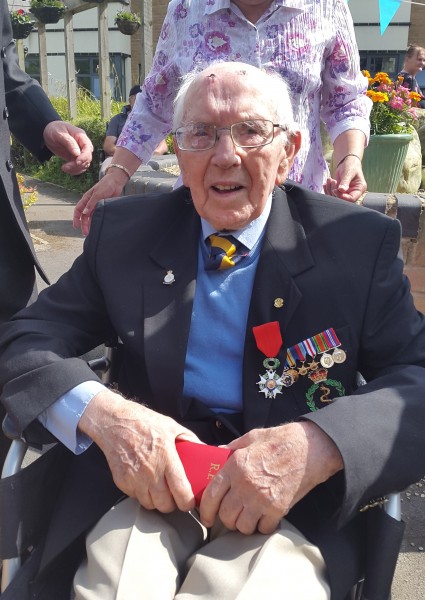 Originally from Penarth, South Wales, Arthur moved to Gloucester in 2015. The move came so that he could be nearer his family, including his daughter, granddaughters and two great granddaughters.
During his 97 years in Penarth, Arthur remained an active presence in the community. His tireless service saw him support a number of groups, including the Penarth branch of the Royal British Legion, Trinity Methodist Church and Windsor Bowls Club.
After being demobbed in 1946 Arthur returned home to Penarth and worked at the old Price Brothers factory on Station Road for 22 years. He and his wife, Marie, married in 1949, before welcoming their daughter, Elizabeth, in 1950.
Unfortunately for Arthur, he suffers from both cataracts and geographic atrophy as a result of age related macular degeneration. He has been supported by the charity Blind Veterans UK, the national charity for vision-impaired ex-Service men and women, since January 2014.
ENDS
Blind Veterans UK was founded in 1915 and the charity's initial purpose was to help and support soldiers blinded in the First World War. But the organisation has gone on to support more than 35,000 blind veterans and their families, spanning WWII to recent conflicts including Iraq and Afghanistan.
Blind Veterans UK currently supports over 4,500 veterans, more than ever before in the charity's history. They have set the ambitious target to double the number of veterans receiving its life changing support to over 8,000 by 2022.
For more than a century, the charity has been providing vital free training, rehabilitation, equipment and emotional support to blind and vision-impaired veterans no matter when they served or how they lost their sight. Visit blindveterans.org.uk/support to learn more about the charity and how you can support its vital work today.
For all media enquiries please contact: Felix Arbenz-Caines, PR Assistant, Blind Veterans UK, 12 – 14 Harcourt Street, London, W1H 4HD, E: Felix.Arbenz-Caines@blindveterans.org.uk, T: 020 7616 7941
Notes to Editor
Blind Veterans UK
Blind Veterans UK is a national charity that believes that no-one who has served our country should have to battle blindness alone. Founded in 1915, the charity provides blind and vision impaired ex-Service men and women with lifelong support including welfare support, rehabilitation, training, residential and respite care.
Find out more at: blindveterans.org.uk, follow us on Facebook at: facebook.com/blindveteransuk and on Twitter at: twitter.com/blindveterans.