The Veterans Charity is pleased to report that despite a huge increase in demand for our rapid support since the start of the pandemic and further increases due to the cost of living crisis, we have been able to meet the challenges and have delivered urgent, immediate needs support to over 2000 Veterans since the beginning of 2020.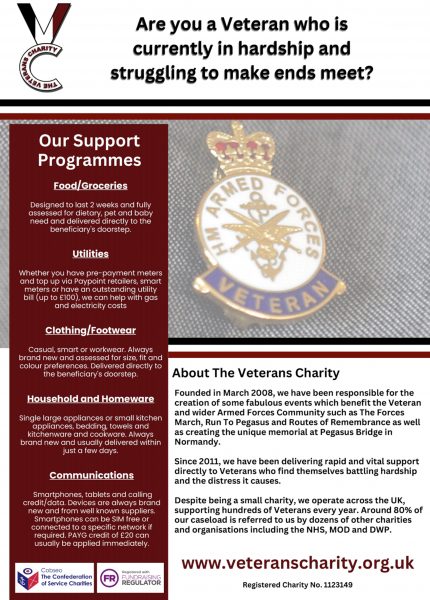 We provided vital support for essentials such as food shopping, utilities, clothing and communications to 651 cases in 2022 alone with around 80% of our caseload coming via referrals from many other organisations.
In 2022, we received the first funding from a 3 year grant from Forces Support which enabled us to help almost 450 Veterans. In July, we also commenced an exciting welfare partnership with the RLC Association which enabled support to be provided rapidly to 54 Veterans of the RLC and Forming Corps.
Demand for our support rose throughout the year and we already supported over 30 Veterans in 2023. Thanks to continued funding from Forces Support and the RLC as well as a fabulous grant of £30,000 from The Veterans' Foundation, we are in a strong position to continue meeting the urgent and sometimes desperate needs of Veterans who have found themselves in dire hardship.
We know from the past 15 years that our rapid reaction not only provides Veterans with the essential that they and their families need but it also helps to bring stability and to alleviate the immediate distressed, enhancing engagement with other agencies who are delivering specialist or longer-term support which takes time to implement.
2023 is our 15th year as a charity and we are looking forward to strengthening existing relationships and building new ones with others who work within the service charity and Veterans' support sector. We are already in discussions with other associations and we look forward to helping Veterans to continue living rewarding and fulfilling lives, as they deserve to.