A blind veteran from Cheshire who has previously marched at the Cenotaph in London will be experiencing a very different Remembrance Sunday this year due to Covid-19.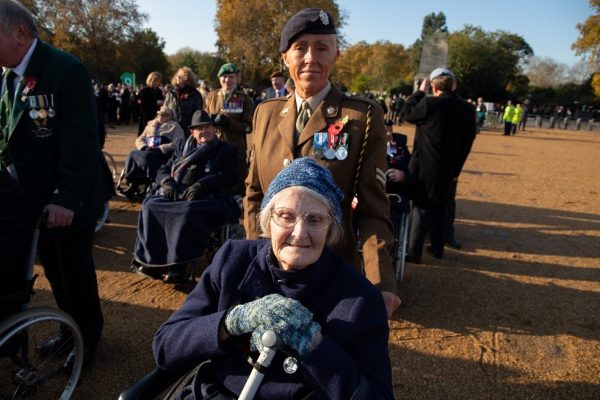 Mavis Linfoot, 92 and from Macclesfield, was due to be marching at the Cenotaph as part of the national Remembrance Sunday commemorations with more than 100 other blind veterans supported by Blind Veterans UK, the national charity for vision-impaired ex-Service men and women.
However, the pandemic has meant that the service and march will be drastically reduced this year and this has prevented Mavis and other veterans who are at greater risk from Covid-19 from being able to join.
She joined the Queen Alexandra's Royal Army Nursing Corps in 1957 and was stationed originally in Aldershot and then in Germany and Cyprus where she was a nurse and a midwife. Mavis was discharged from service in 1961. She continued nursing when she returned home and specialised in supporting women diagnosed with breast cancer.
Mavis lost her sight much later in life due to age-related macular degeneration. She says:
"I started to lose my sight about nine years ago. It gradually worsened and now it's very poor. It was terrible when I lost it because I could no longer drive. I was a keen driver so losing my license was hard."
Fortunately, she found out about Blind Veterans UK and started receiving support from the charity in 2016. Mavis says: "The charity have given me so much opportunity. I used to go to the local lunch club that they organised before the COVID-19 pandemic. They have given me lots of kind support during lockdown and regularly check in on me and make sure I'm okay. Everyone is so friendly and I've made friendships now with the other members".
Although not marching in London, Mavis and other blind veterans will have the opportunity to get together virtually in "listen and join in" parties. This will help to keep isolated blind veterans connected at such an important time. She says:
"It's a shame that I can't march this year but on Remembrance Sunday I will be thinking of everyone who served or are currently serving". 
Blind Veterans UK was founded more than 100 years ago to support those blinded in the First World War. Now, the charity supports veterans regardless of when they served or how they lost their sight. Throughout the pandemic the charity has supported veterans, particular those who are most vulnerable.
Chief Executive of Blind Veterans UK, Major General (Rtd) Nick Caplin CB says:
"This year will be a Remembrance like no other and it's such a shame that veterans like John won't be marching proudly at the Cenotaph.

"More than 90% of the blind veterans we support are over 70 and so most at risk from Covid-19.

"Our immediate concerns continue to be working quickly to help those who are most vulnerable – whether they need food delivered, medication from their pharmacy or a friendly voice over the phone.

"The isolation caused by Covid and experienced by our blind veterans can be just as harmful as the virus itself. That's why we will be doing all we can to ensure they remain connected to each other and the outside world through the Remembrance period and beyond."
Visit blindveterans.org.uk to learn more about the charity and how you can support its vital work today.