There were more than a few double takes last Saturday when passengers at Glasgow's Central Station spotted a three familiar faces – masks, actually – from a long time ago in a galaxy far, far away…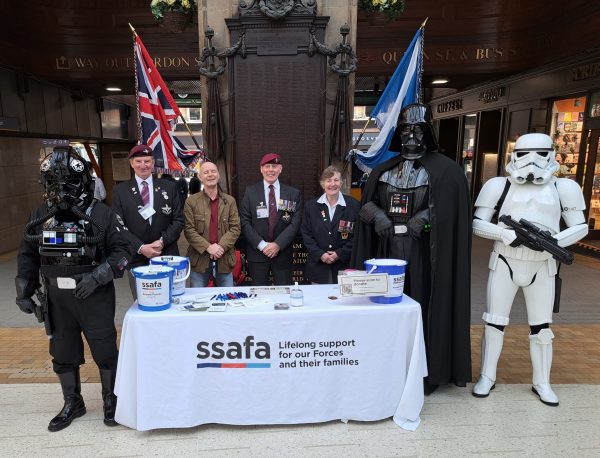 The masks belonged to Darth Vader, a Stormtrooper, and a TIE fighter pilot – all members of the Imperial Scottish Garrison, a unit within the 501st Legion, an international costuming organisation dedicated to all things Star Wars – and these legendary cinematic villains were out in force fundraising for SSAFA, the Armed Forces charity.
It was the idea of Terry McCourt, a former Para and now a SSAFA Glasgow & Renfrewshire volunteer and fundraiser. Terry, other branch volunteers, and the evil trio collected nearly £1,600 on the day to help fund support in the branch's area.
Terry says:
"We hoped that Darth and his Imperial pals would prove popular, and we weren't wrong.

"Passengers at Glasgow Central Station – and I've got to say a big 'thank you' to Station Manager Drew Burns and his colleague Catherine O'Neill for being so helpful – were gobsmacked and generous in equal measure, with loads of them queueing to have photos taken with Darth and the others. I've never seen anything like it.

"We hope to have the Imperial Scottish Garrison supporting SSAFA again, but until then, remember: the Force will be with you, always…just as SSAFA has been for serving and former members of the Armed Forces, and their families, since 1885".
To volunteer or fundraise for, or access support from, visit ssafa.org.uk/glasgow-renfrewshire.
Learn more about the Imperial Scottish Garrison by following this link: www.501st.scot.