Worthing-based charity, Care for Veterans, has received a grant of £40,000 from the Garfield Weston Foundation. The generous donation will go towards vital services, including occupational therapy, physiotherapy, neuropsychology, on-site wheelchair clinic, rehabilitation kitchen, social and recreation activities, outings, chaplaincy and ambulance service.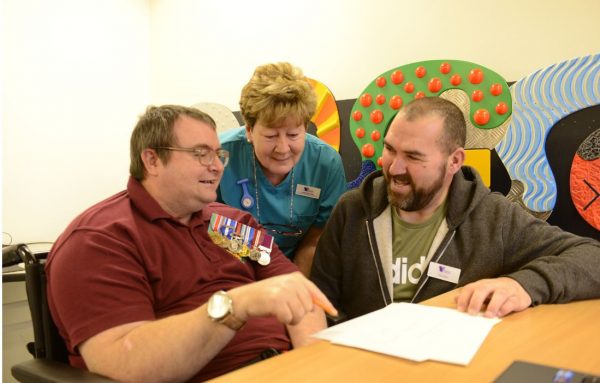 Care for Veterans has been caring for disabled veterans since it was first established in 1919 and celebrated its centenary last year. With no regular government funding, the charity must raise over £1.9 million each year to maintain its nursing and rehabilitation services for ex-Service personnel, like Steve Boylan.

Ex-Army Warrant Officer, Steve, arrived at Care for Veterans in December 2018 after three years in assorted hospitals and rehabilitation centres. Steve had a road accident on the way back from the garage – a car hit his motor bike from behind. Steve collided, head-first, with the van in front. The Air Ambulance team performed roadside surgery to relieve the pressure on his brain. Sadly, Steve suffered a severe brain injury which seriously affected his speech, and left him paralysed on one side of his body. Aged just 39, he was suddenly unable to walk and had to use a wheelchair – especially devastating for an action man who became a Joint Service Mountain Expedition Leader, loved canoeing, mountain biking and snowboarding. Steve's life and dreams are forever changed, but Care for Veterans has already had a positive impact on his life.

Steve came to Care for Veterans not only to be with fellow veterans, but because of the wide range of rehabilitation therapies available onsite. Currently, in physiotherapy, he is working towards increased independence so that he can get out of bed without using a hoist. He is strengthening his legs using an exercise bike and is aiming to cover the distance from Land's End to John O'Groats over the summer. Before coming to Care for Veterans, Steve was depressed and not making progress, but things have changed. He says,
"I love it here as we all share a common background. The physiotherapy is the best I have ever had – they give me goals to achieve and work me hard. My sons say they can already see a difference. Most importantly, the staff here have given me a new determination. They've even helped me take my 10-year-old son, Albert, shopping. It was fantastic, for the first time in three years I was able to be a dad again and do what dads do."  

Trusts and Foundations Officer, Kim Bowen-Wood, said:
"On behalf of our residents, I would like to thank the Garfield Weston Foundation for their continued support. We receive no regular Government funding, and during this unprecedented time, we have already had to cancel several fundraising events upon which we were relying for income. This extremely generous grant is a huge help and means that we can continue to provide our vital care and rehabilitation services to our veterans."


About The Garfield Weston Foundation 
Established in 1958, the Garfield Weston Foundation is a family-founded charitable grant-making trust which now gives away approximately £80 million a year to charities across the UK. Having established one of the most respected charitable institutions in the UK, the Weston Family Trustees today remain highly active and hands-on. The Foundation's funding comes from an endowment of shares in the family business – a successful model that still endures today and as the businesses have grown so too have the charitable donations.
Each year the Foundation gives away its income and donations have continued to grow. Since it was established it has donated over £1 billion, of which over half has been given away in the past ten years alone. In the most recent financial year the Foundation gave away over £79 million to over 2,100 charities across the UK.
About Care for Veterans
Care for Veterans (formerly The Queen Alexandra Hospital Home) was established in 1919 – the charity celebrated its centenary last year.

Care for Veterans is a registered charity, providing care and rehabilitation for physically disabled ex-Service personnel and their families. Our residents' needs are complex and many have multiple disabilities. Many have an Acquired Brain Injury and some have neurological disorders such as Parkinson's or Multiple Sclerosis. Others are paralysed or do not have use of their limbs and some are terminally ill. We support on average 140 residents a year.

We care for up to 60 residents at any one time.

Our residents are aged between 34 and 96.

Our residents represent the tri-services: Royal Navy, Army and RAF.

Services at Care for Veterans include nursing, physiotherapy, occupational therapy, neuropsychology, speech and language therapy, an active social and recreation department, rehabilitation kitchen, a chaplaincy service, counselling, IT facilities, a rehabilitation garden, sensory room, function room, and regular outings on our specially adapted coach.

With no regular government funding, Care for Veterans must raise over £1.9 million each year to maintain its nursing and rehabilitation services for ex-Servicemen and women.