Members of SSAFA, the Armed Forces charity with military experience may have met many foes during their service, but probably none as unusual as costuming group The Shadovar Guild of Assassins, members of which attended the recent AGM of SSAFA Merseyside.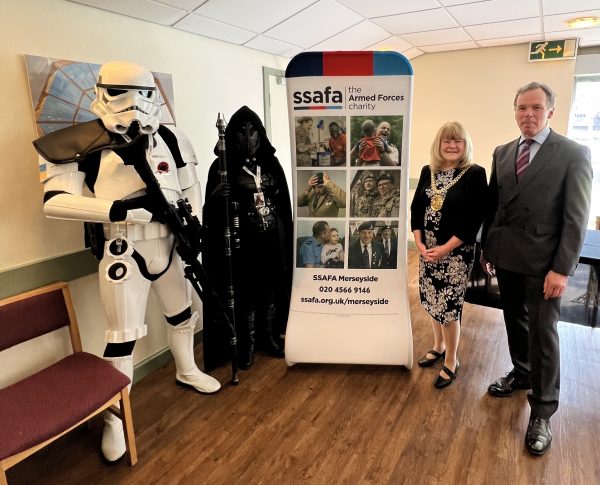 The Assassins – in another life they are Delroy Williams and Theresa Hann, part of the branch fundraising team – were in good company at the AGM. Others attending included Nigel Lanceley, High Sheriff of Merseyside, and the Right Worshipful the Lord Mayor of Liverpool Cllr Mary Rasmussen.
Also present were: Dame Lorna Muirhead, Vice President of SSAFA Merseyside; Colonel D Doherty, Head of the Army in the Northwest of England; and SSAFA Northwest Regional Chairman John Thompson. The CEO of SSAFA, Lieutenant General Sir Andrew Gregory, gave the principal address.
The AGM, held at the Gibberd Room at the Liverpool Metropolitan Cathedral of Christ the King, was also the opportunity to present SSAFA volunteers with Sir James Gildea Awards. These are named after Colonel Sir James Gildea who in 1885 founded the Soldiers' and Sailors' Families Association, which became the Soldiers', Sailors', and Airmen's Families Association in 1919, before more recently becoming SSAFA, the Armed Forces charity.
The award that bears his name is given for contributions to supporting the Armed Forces community locally, and the recipients of SSAFA Merseyside were volunteer caseworker Linda Bibby and fundraisers Claire and Tony Brougham.
There were also long-service awards to SSAFA Merseyside caseworker Jim Walmsley and fundraiser Royston Smith-Straney, with 10- and five-years' service respectively.
SSAFA Merseyside Branch Chairman, Lorraine Jackson who also attended, said:
"While the Shadovar Guild of Assassins added a novel and light-hearted twist to proceedings, the business of SSAFA Merseyside remained front and centre to all present.

"This, our first in-person AGM since 2019, was a great opportunity to meet people again, reflect on our successes and the continued hard work of SSAFA Merseyside, look to the future, and to acknowledge five of our wonderful volunteers with their Sir James Gildea Awards."
For more information, including how to volunteer, visit ssafa.org.uk/merseyside