A blind veteran from Somerset is set to march at the Cenotaph in London for the final time this Remembrance Sunday (12/11).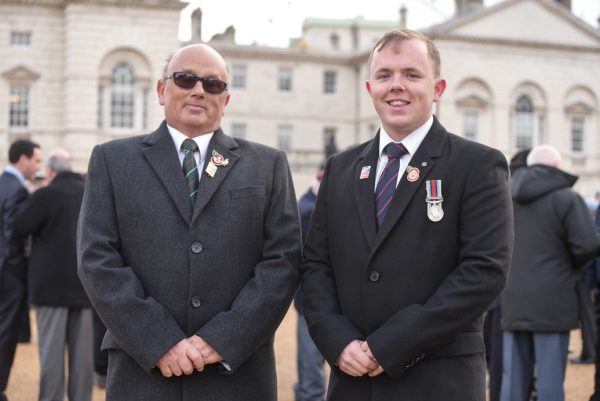 Mark Pile, 59 and from Peasedown St John near Bath, has sadly been told he hasn't long to live which has made him determined to march at the Cenotaph one last time as part of the national Remembrance Sunday commemorations.
With his son by his side, Mark will join more than 40 other blind veterans supported by Blind Veterans UK, the national charity for vision-impaired ex-Service men and women, to honour those who gave their lives in service.
Mark served in the Light Infantry between 1984 and 1993 as a bugler, a driver and an infantryman. During his nine years he spent time in Germany and Gibraltar.
It was in 2000 that Mark first noticed there was a problem with his sight.
He says:
"I was working as a driver at the time and realised I couldn't tell where the side of the road was. I went to the opticians and the hospital and discovered I had an hereditary eye condition that causes a break down in how the eye and the brain work together.  

"From then my eyesight gradually deteriorated and in 2011 I was registered blind. 

"I took the news really badly and didn't go out for ten years. I couldn't see the point in living and was in an incredibly dark place." 
Fortunately, Mark found out about Blind Veterans UK and started receiving support from the charity in 2012.
"Joining Blind Veterans UK was the first time that I reached out and accepted help. I credit the charity with saving my life, if it wasn't for the fantastic support I've received I wouldn't be here today. I can't thank them enough.      

"The charity helped me to realise there is life after sight loss. I began to accept blindness and the support I received from my peers and the staff was a huge thing for me and still is. You are never alone which is particularly important to me right now. 

"The charity offers rehabilitation and helps you to rekindle old hobbies and interests or discover new ones. With the encouragement of staff, I began to get more serious about photography and I got better and better." 
Last year, Mark was diagnosed with cancer and started intensive treatment but was sadly told in March there was no more that could be done. In May this year, Mark was supported by Blind Veterans UK to make his life-long ambition of completing a tandem skydive a reality which has seen him already raise over £3,000 for the charity via his fundraising page.
He says:
"I am so grateful that I had the opportunity to do this, it's wonderful that the charity is still helping me at this stage in my life. 

"The experience was everything I could have hoped for, the instructor was my eyes and described everything that he could see on the way down. 

"Along with a group of my fellow blind veterans I helped to set up photography weeks for the veterans visiting the charity's centres and helped to run the weeks and also photograph the charity's events, this was my way of paying back to the charity that has done so much for me but I am no longer able to do that so the skydive was my small way of saying thank you." 
Mark will be marching with fellow blind veterans at the Cenotaph this Remembrance Sunday. He says:
"Being at the Cenotaph this year is incredibly important to me, I have the opportunity to remember those who died in conflict one last time. 

"The overwhelming support from the nation as we march past is a truly special thing to experience. I've been told I don't have long left so this will be the last time I get to stand beside my fellow blind veterans and I am determined I will be there." 
Chief Executive of Blind Veterans UK, Adrian Bell says:
"At Remembrance we commemorate the brave sacrifice of all those who lost their lives for their country. We also reflect on the huge challenges faced by veterans living with life-changing injuries from their time in service. 

"I'm proud to be marching alongside Mark and our contingent of over 40 blind veterans at the Cenotaph this year, and I know there will be many more attending moving ceremonies in communities up and down the country. 

"This year marks important anniversaries for our veterans, not least the 20th anniversary since the invasion of Iraq and 70 years since the end of the Korean War. With these in mind, we will be particularly thinking of all those tragically lost and wounded in these conflicts, and of their families." 
You can show your support to Mark and help him to raise money for Blind Veterans UK by visiting his Just Giving page here: justgiving.com/page/markpileskydive
If you, or someone you know, served in the Armed Forces, including National Service, and are now struggling with sight loss, then please get in touch. Call 0800 389 7979 or visit blindveterans.org.uk/apply