Active Stirling and On Course Foundation have partnered to roll out Tee Times for Troops – an initiative which uses golf as a vehicle for change, allowing veterans the opportunity to play golf and alleviate wider social outcomes.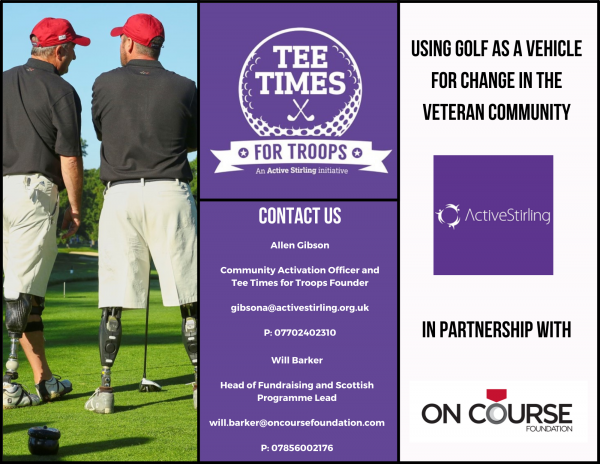 The programme was founded in 2018 by Community Activation Officer, Allen Gibson and was successfully rolled out in the Stirling and Clackmannanshire area. Nine clubs initially signed up, the first being Stirling Golf Club:
''Stirling Golf Club are delighted to be involved in the Tee Times for Troops rollout. We fully support the initiative to re-integrate veterans to get back to playing golf within their local communities. We have been involved since its inception and we are committed to helping in any way we can whilst working closely with Active Stirling.'' Gary Bowman, Secretary – Stirling Golf Club.
Since partnering with On Course Foundation, 28 clubs have signed up to the initiative, offering a mix of complimentary and discounted tee times to veterans throughout Scotland.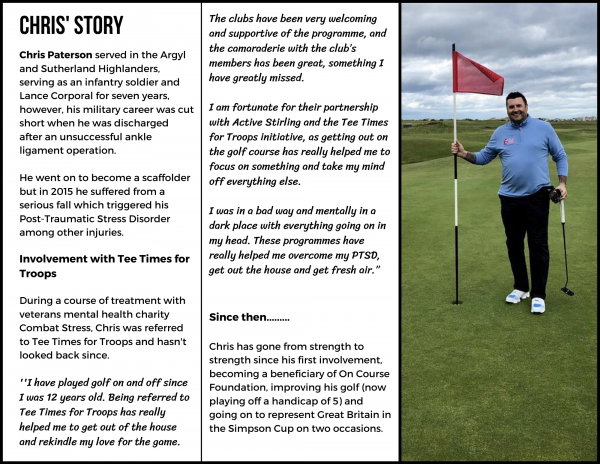 To find out more about this, please visit Tee Times for Troops.
If you are a veteran who wishes to participate in the programme, please contact will.barker@oncoursefoundation.com.