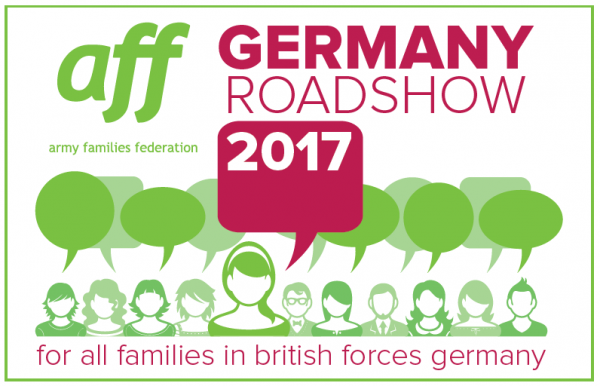 The Army Families Federation (AFF) is once again back on the road, this time in Paderborn, Germany, to meet families, listen to their concerns and answer their questions.
FREE family event
The AFF Germany roadshow takes place on Wednesday 18 October at Montgomery's, Barker Barracks, from 10.30am until 1pm. The event is FREE to attend and all are welcome to what will be a positive, family-friendly day.
AFF representatives attending will include their Education, Housing and Foreign & Commonwealth Specialists as well as their Germany team. The AFF Specialists will be taking part in one-to-one sessions in the 'Bridges' from 12:15pm to 2:30pm to speak to help families; their F&C Specialist will also be happy to advise EEA spouses who may have concerns over BREXIT. Families will also have the chance to meet local command to discuss any problems and concerns.
Come and meet AFF
AFF's Chief Executive Sara Baade, who will also be at the event, said: "We're looking forward to meeting lots of local families at our roadshow. Events such as this have been well attended in the past, which means AFF and local command gain a better understanding of what issues families need support with.
We encourage you to bring your questions and ideas to share with others. We're really eager to hear what you have to say."
Get involved
Lunch and some transport will be provided; families are asked to contact AFF for more details.
For those who cannot make this family event, or perhaps don't wish to ask a question on the day, AFF is asking families to send their questions or comments in advance to rmgermany@aff.org.uk
More about AFF
To find out more about AFF's work, including their Germany-based team, visit their website www.aff.org.uk
ENDS
Notes to Editor:
The Army Families Federation (AFF) is the independent voice of Army families: Regular or Reserve, wherever they are based, whatever the make-up of their family.
Throughout the UK and overseas, AFF works hard to achieve policy change and progress in favour of Army families; they offer advice and guidance on all aspects of Army life, confidentially and in an easy-to-digest way.
They work with other agencies such as MOD, government, charities and other key players to strengthen their cause and fight for a fair deal for families everywhere.
Their family-focussed website (aff.org.uk) contains information about all aspects of Army family life, and their Facebook, Twitter and Instagram pages offer families other easy ways to contact us, interact with us, or simply follow the work we are doing.
AFF operates by four core values, which are pivotal to our work. These are:

AFF always puts families first
AFF can be trusted
AFF is bold and determined
AFF is inclusive
Media Contact:
For more information about AFF's work, contact Donna Bernard, AFF Comms & Marketing Director, at commsmarketingdirector@aff.org.uk