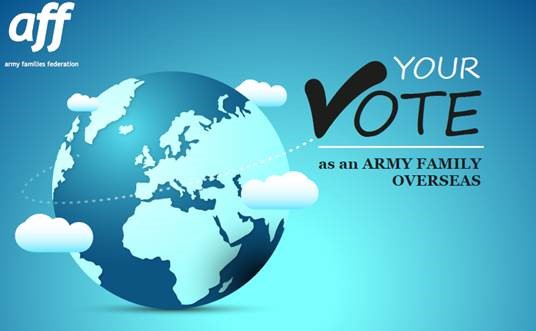 The Army Families Federation (AFF) is asking Army families posted overseas whether or not they voted in the recent general election.
The survey will focus on whether families voted, which method they used and which they would prefer to use in the future.
Tackling voting disadvantage
Since the general election back in 2015, AFF has been working towards securing a quicker, safer postal voting system for future elections.
With the quick turnaround of this latest election, indications from local authorities were that ballot papers would not reach families in time for them to vote by post.
However, AFF's work continues and their latest survey seeks to garner families' opinions and find realistic solutions that allow families overseas to cast their vote more easily in future.
AFF Chief Executive Sara Baade said, "Ensuring Army families can vote while overseas is an important issue for AFF. Our overseas voting survey back in March 2016 showed that 74% of those posted overseas would prefer to vote by post. Now, we are keen to discover the effects the quick turnaround of this latest election has had on families' ability to vote and how easily they were able to do so."
Take AFF's survey
AFF's survey runs from 9-19 June and the feedback they receive will be taken back to the MOD and Electoral Commission as further evidence of the need for change.
Take AFF's survey at www.surveymonkey.co.uk/r/votingoverseas
To find out more about the work AFF does in support of Army families, visit www.aff.org.uk
ENDS
Notes to Editor:
The Army Families Federation (AFF) is the independent voice of Army families: Regular or Reserve, wherever they are based, whatever the make-up of their family.
Throughout the UK and overseas, AFF works hard to achieve policy change and progress in favour of Army families; they offer advice and guidance on all aspects of Army life, confidentially and in an easy-to-digest way.
They work with other agencies such as MOD, government, charities and other key players to strengthen their cause and fight for a fair deal for families everywhere.
Their family-focussed website (aff.org.uk) contains information about all aspects of Army family life, and their Facebook, Twitter and Instagram pages offer families other easy ways to contact us, interact with us, or simply follow the work we are doing.
AFF operates by four core values, which are pivotal to our work. These are:

AFF always puts families first
AFF can be trusted
AFF is bold and determined
AFF is inclusive
Media Contact:
For more information about AFF's work, contact Donna Bernard, AFF Comms & Marketing Director, at commsmarketingdirector@aff.org.uk