In a unique collaboration with the RAF, BFBS has created a special virtual commemoration of this year's Air Forces Memorial Service at Runnymede.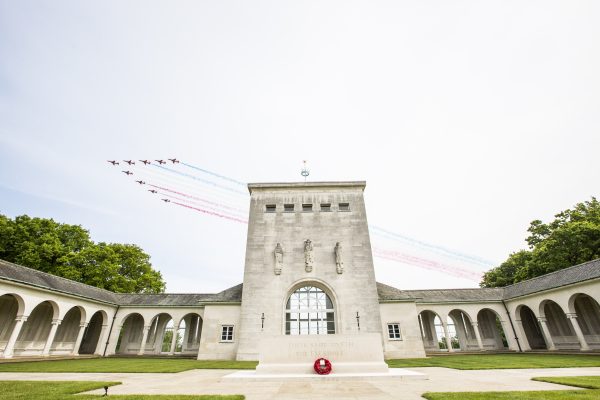 Audiences will be able to watch it on BFBS TV, Forces TV, our online platforms and listen on BFBS Radio on Sunday 17 May.
The ceremony is usually held at the Runnymede Memorial in Surrey on the second Sunday of May, but this year's pandemic means the normal service is not possible. The Memorial commemorates more than 20,000 men and women from Commonwealth air forces who lost their lives during the Second World War and have no known grave.
The Chief of the Air Staff, Air Chief Marshal Mike Wigston said:
"Each year representatives of Commonwealth air forces come to Runnymede to remember. This year, we will conduct a virtual memorial service to commemorate those who gave their tomorrow for our today. In this, the 75th year of Victory in Europe and Victory over Japan, and the 80th anniversary of the Battle of Britain, we have adapted to ensure we deliver this important service of remembrance. We will not forget their sacrifice."
The service is normally attended by the Chief of the Air Staff with representatives from families of the lost, Commonwealth Countries, the Commonwealth War Graves Commission, Royal Air Force Associations, Veterans, members of the public and representatives from RAF stations.
Producer for BFBS, Jon Knighton, said:
"There were several challenges making this virtual service. We wanted to reflect the importance of Remembrance while also maintaining vital social distancing in the current lockdown.

"In addition, we were anxious to involve those who could not be there in person – whether representatives of the Commonwealth, or those from RAF bases, stations and detachments.  We therefore put the call out for people to make their own short video tributes, which they did magnificently."
The virtual service is combined with messages from around the world, as BFBS received more than 60 clips from the RAF including 17 from foreign embassies, defence attachés and high commissioners who wished to pay their respects. 
Simon Bucks, Chief Executive, BFBS, said:
"With so much of life on hold, BFBS is more committed than ever to entertaining, informing, connecting and championing the armed forces family, and we are thrilled to have been able to support the RAF in this important and valuable initiative and to be able to bring it to audiences across multiple platforms."
How to watch and listen to the virtual celebration, created by BFBS on Sunday 17 May:
Watch on TV Forces News Weekend at 17.30 (UK time) on BFBS Extra overseas or on Forces TV in the UK on Sky 181, Virgin 274, Freesat 165, Freeview 96 and YouView 96.
Details on how to watch online at 11.00 (UK time) are at forces.net/runnymede where you can also read about the event.
Listen on BFBS Radio worldwide at 14.30 (UK time) at radio.bfbs.com/stations/bfbs-uk – a podcast will also be available afterwards at radio.bfbs.com/podcasts/
Note to Editors:
About BFBS
BFBS is a military charity and broadcaster that entertains, informs, connects and champions the UK Armed Forces. 
We bring entertainment, news, sport and information services to the military, their families and veterans worldwide. We spread happiness and keep people in touch, building morale among the military overseas – offering them a valuable connection to life back home, and a way to share experiences and build communities. 
We are also the home of military content, championing the military by keeping their activities in the public eye on our Forces digital channels and on our national TV channel. 
And our commercial services, which provide income for our charity, span training, digital and creative services and pioneering technology solutions that enable media and communication in the hardest to reach places.