Armed Forces Veterans charity Alabaré are delighted to present the "We'll Meet Again Quilt" for auction.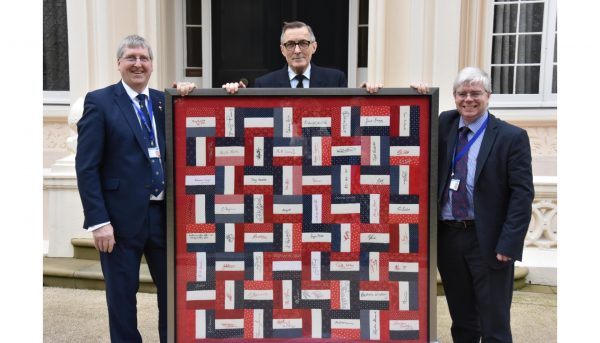 The quilt was donated to the charity by war Veteran Dennis Gimes, who had the great idea to make a quilt covered with the signatures (now stitched in) of famous celebrities including Dame Vera Lynn, Sir Roger Moore and Joanna Lumley to name but a few.
The quilt has been beautifully made by the London Quilt Makers, backed and framed and will now be auctioned to raise vital funds to support the charity's work with homeless and vulnerable Veterans.
In total it features the embroidered signature of 65 people who believe 'no Veteran should call the street home', these include people from the world of entertainment (Dame Vera Lynn, Simon Pegg, Richard E Grant, Joanna Lumley) from Politics (Edwina Curry, Rt Hon. Paddy Ashdown, Stephen Harper ex-PM of Canada), sports (Lester Piggott, Alex Stuart, Carl Fogarty, Michael Vaughan) and those who have served (Simone Segonin and Sir Redman Watt).
Sir Ranulph Fiennes, whose signature is also included on the quilt said;
"I signed this quilt because I strongly believe we should do all we can to stop our brave Veterans becoming homeless. I hope this quilt, with all the great names on it, really raises a lot of money for the brave men and women of our Armed Forces."
The quilt will be sold on Friday 10th July to mark 80 years since the start of the Battle of Britain. By buying this quilt, not only you will own a unique collectors item, you will also be supporting those Veterans whose battle is not yet over.
Anyone who would like to bid on the quilt can do so by visiting – https://www.charitystars.com/product/we-ll-meet-again-quilt-handmade-quilt-signed-by