Over £4,500 was raised by Salisbury-based charity Alabaré by their Wiltshire ambassadors after hosting the fundraising event 'My Life as a Cold War Spy'.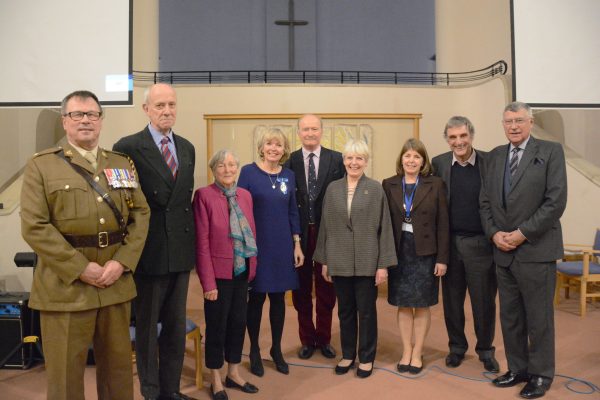 The evening at St Francis' Church, Salisbury saw a fascinating talk by Major General Peter Williams on his time spent as a British commander and Military Spy who spent six years in Berlin and East Germany. He detailed how during the Cold War he served in Berlin from 1973 to 1975 as a Regimental Intelligence Officer before spending a further four years in the 1980s in Berlin and East Germany as an officer in the British Commander'-In-Chief's Mission to the Group of Soviet Forces in Germany in effect working as a military spy.
Commodore Richard Lord, chairman of the Alabaré Wiltshire Ambassadors said;
"I was delighted with the evening. The Ambassadors and Alabaré had worked hard together to produce what those attended said was a most enjoyable, successful and informative evening. 
We were very grateful to the speakers Major Richard Rimmington, Major General Peter Williams and our High Sheriff Nicky Alberry, and very proud of the Salisbury Sea and RM Cadets who supported us. 
Raising funds for Alabaré is so important to help those in need. As a result of sponsors, donors and those who attended over £4500 has been raised."
For more information or to arrange an interview call Harvey Taylor on 01722 344485.
Notes
At Alabaré we support people to overcome the barriers of homelessness, mental ill-health and learning disabilities in-order to have a home, health, choice and independence.
Alabaré Christian Care and Support provide the highest standards of accommodation and support to disadvantaged and vulnerable people in our communities in order that they can have a home, health, choice and independence. Since 1991, Alabaré have been working with people facing disadvantage through homelessness, mental ill-health, learning disability or a combination of these.  We provide housing and personalised support based on the individual needs and aspirations of each person, tackling underlying causes and giving them the skills and confidence to move forward with their lives.