Alchemic Kitchen, a start-up social enterprise from the charity Feedback, and other partners have been serving up homemade soup and fresh bread and delivering them to veteran residents living at Launchpad's Speke House in Liverpool.
Like most businesses during the Covid-19 pandemic, the Merseyside-based project has had to adapt its business model and is supporting local communities twice a week to deliver fresh soups and bread rolls to local charities.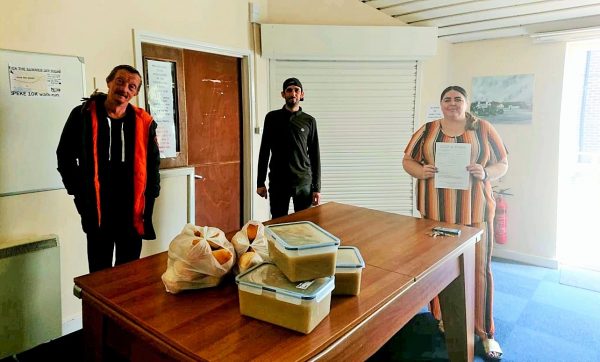 Alchemic Kitchen is renowned for creating preserves from locally sourced food that would otherwise be wasted. They rescue the food from local farms or markets and use it to make unusual and delicious treats and feasts. They also work with local people to enhance their skills and connect communities to the value of good food.
The delivery, every Wednesday, is a welcome relief for some of the veteran residents living at Speke House who have had to adapt to the way they live due to the current lockdown restrictions. Most residents are self-isolating and all communal areas are closed.
Launchpad provides accommodation and support to help veterans stabilise their lives and make a successful transition from military to civilian life. Speke House accommodates 48 residents in self-contained flats.
Sam Jackson, Manager of Launchpad's Speke House, said:
"It is a wonderful gesture for Alchemic Kitchen to deliver soup and bread rolls to our residents. It means a lot to them to have freshly made food cooked and delivered to them ensuring they are getting at least one good meal every Wednesday.

"We have a good partnership with Alchemic Kitchen and last year, our residents were invited to a local farm in Scarisbrick where they picked kale and vegetables and cooked outdoors. On behalf of all residents, we are very grateful to Alchemic Kitchen and their suppliers for helping our veterans, especially during this difficult time."
Lucy Antal, Project Manager for Alchemic Kitchen, said:
"Due to the current climate, we have had to change the way we operate. As signatories of the Armed Forces Covenant, we are delighted to be supporting local charities such as Launchpad to deliver fresh soups. These have been made using surplus and rescued vegetables from local farms and Hurst Brothers at the Liverpool Wholesale Food Market, with the addition of pulses from Hodmedods to up the nutritional content.

"We are also working in partnership with Homebaked Anfield, who are supplying a fresh bread roll with each portion, and we are being supported by donations made by Toast Ale."
Michael, a veteran resident at Speke House, said:
"I love the soup deliveries every Wednesday. It's nice to be thought of and that Alchemic Kitchen are willing to go out their way during this strange and difficult time.

"They are delicious, lovely homemade and hearty fulfilling soups, all very healthy and full of goodness and taste great. We really appreciate this and a big thank you to Lucy and the team."
Last year, Launchpad, which also has a house in Newcastle, supported 157 veterans and has helped 455 veterans since 2013. 42% of residents left Launchpad with jobs. 69% successfully moved on to settled accommodation, either living independently, reunited with family or with the support they needed.
For more information on this press release, please contact Craig Downs from Up North Communications on 0191 300 0810, 07811 287 922 or email craig@upnorthcommunications.co.uk
Notes to Editors:
AF&V Launchpad is a registered Charity Number 1153185 and Company Number 8633047.
For more information about Launchpad, please visit www.veteranslaunchpad.org.uk
Launchpad welcomes donations to support its veterans, through its website
Key partners that Launchpad work with are: Liverpool City Council, Newcastle City Council, Big Lottery, ABF The Soldiers' Charity, Royal British Legion, Veterans' Foundation, Forces Employment Charity, Addaction, Crisis Skylight, the NHS, SSAFA, Speke Training and Education Centre and Combat Stress, among many others.
Achievements in the last year have been as follows:
At the end of December 2019, the total number of veterans helped since Launchpad opened in 2013 is 455.
42% of residents leave Launchpad with jobs.
69% successfully move on to settled accommodation, either living independently, reunited with family or with the support they need.

Launchpad won the 'Working Together' award in the national 'Soldiering On Awards' and two founders were awarded the Prime Minister's 'Point of Light".

Launchpad won The Veterans' Foundation award at the Heropreneurs Awards 2019.