On Monday 4 July, The Veterans Charity was very proud to join other finalists, nominators, sponsors and members of the Soldiering On Awards team for a special reception at the House of Lords.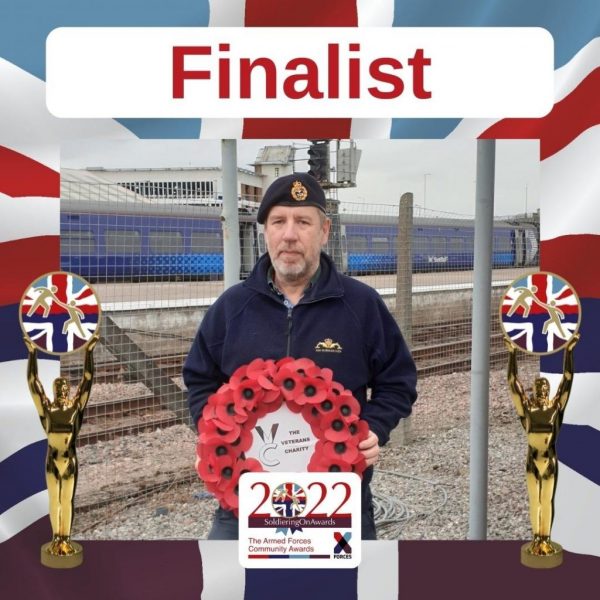 The charity has been shortlisted as a finalist in the Working Together category, which is sponsored by Forces In Mind Trust, for our Routes of Remembrance initiative which has brought Veterans, HM Forces and the Transport Sector together over the past two years.
Whilst visiting the capital, we took the opportunity to begin one of our special Routes of Remembrance tours and journeyed to various key landmarks and memorials with a wreath to pay our respects to the fallen.
Danny Greeno, CEO of the charity said
"We are very excited and proud to be a finalist in the prestigious Soldiering On Awards and we are looking forward to meeting with other finalists and the sponsors again at the gala dinner on 27 October. Collaboration is very much at the heart of our welfare work so we are delighted to have been recognised in this way."
Routes of Remembrance has received incredible support across the entire transport sector including Great Western Railway who were the first to get on board in 2020 with the 'Poppies to Paddington' event and have continue their terrific support.
Mark Hopwood, Managing Director said
"We at GWR are thrilled that our partners in Poppies to Paddington, The Veterans Charity, are finalists in the Soldiering On Awards. Borne out of the pandemic, Poppies to Paddington is now an important annual event that is extremely popular with the communities we serve and further cements GWR's proud tradition of honouring those who have served."
The Veterans Charity has already begun developing poignant plans with many other organisations including sending wreaths all the way to the USA and Canada.
More information can be found at www.veteranscharity.org.uk