Every year since 1948, the Taxi Charity has been bringing veterans to Worthing for the day, to spend time with their friends and enjoy seaside favourites, fish and chips and ice cream.
This year's outing is only a week after many of the veterans spent a week in Normandy with The Taxi Charity for D Day 75, remembering the friends they lost.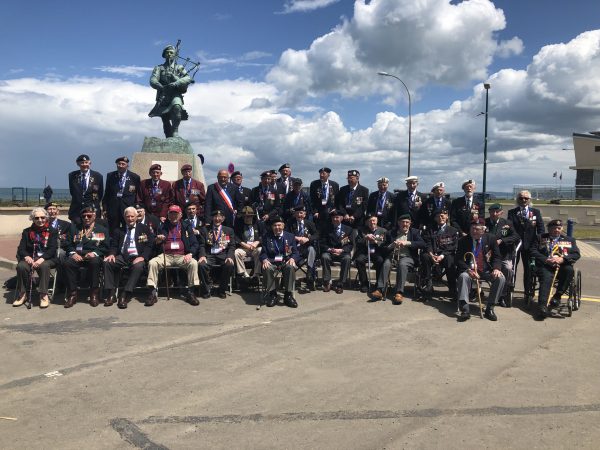 Over 60 Kind-hearted volunteer London cabbies will pick up nearly 200 veterans and their carers from their homes across the South East on Tuesday 18 June and take them for a much-loved day trip to Worthing.
After a pit stop at South Holmwood Village near Dorking in Surrey, for home-made sandwiches, cakes and refreshments the taxis will travel in convoy along the A24 to Worthing. Once in Worthing, the veterans will enjoy a fish and chip lunch with the Mayor of Worthing, Councillor Hazel Thorpe on Worthing Pier. The Mayor, veterans, cabbies and invited guests will hear from guest speaker Paul Raison. National Secretary of the Parachute Regiment Association and enjoy musical entertainment, as well as having the opportunity to catch up with old friends, take in the sea views and grab an ice cream.
WWII Veteran, Bill Gladden, 6th Armoured Recce Regiment RAC, says, "I have been going on outings with the Taxi Charity for many years. The recent trip to Normandy for D Day was particularly poignant as I laid a wreath at the memorial service in Ranville and then met a comrade from my old regiment who I had not seen since June 1944. We both thought we were the only one left! The Worthing outing is a money can't buy experience where I can meet up with an amazing group of old boys and be taken door to door by one of the volunteer London black cab drivers."
Graham Pike, one of the London cabbies taking part, and a committee member of the Taxi Charity, said: "Our annual Worthing trip is something we look forward to all year. It's a pleasure to treat these ladies and gents to a trip to the seaside as a way of saying 'thank you' for all they've done for us."
Notes to Editors
Date – Tuesday 18 June 2019
The cabs will drive through the High Street in Worthing to reach the pier and are due to arrive between 12.00 and 12.30pm (dependent on traffic).
This will offer a superb photo opportunity.
Interviews can be arranged with a veteran, a taxi driver or Taxi Charity Chairman Ian Parsons.
About the Taxi Charity
The Taxi Charity for Military Veterans was formed in Fulham in 1948, to work for the benefit, comfort and enjoyment of military veterans and arranges many trips every year for veterans from all conflicts.
The charity offers international trips to Holland, Belgium and France, day trips to concerts or museums, transport to attend fundraising events, as well as special days out to catch up with friends and comrades.
To fund and facilitate these outings, the charity is wholly reliant on generous donations from members of the public, businesses and trusts and the amazing group of London licensed taxi drivers who offer their time and vehicles for free.
To find out more about the charity or to donate visit the website taxicharity.org.
Twitter @TaxiCharity
Facebook facebook.com/TaxiCharityUK
Contact
Christina Bowden
Bowden PR
Tel 07984 433614