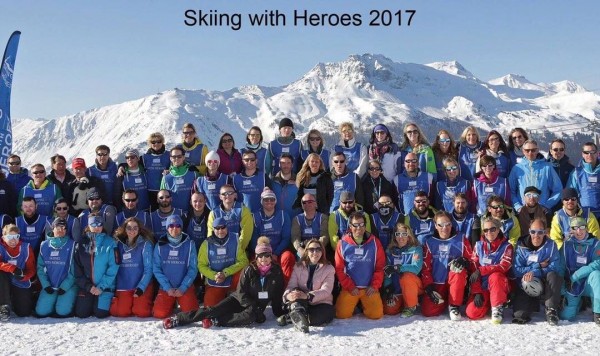 In March 2017 we had a brilliant week with 23 new veterans and 20 buddies, ans welcomed back Carl and Martin B to the veteran support desk. We were a little worried about the ski conditions as the Alps have had a terrible year and this ski week wasn't starting until the 11th March, the latest in the season we have ever had. But true to form we picked the best week of the year, as  the day before everyone arrived we had 65cms of fresh snow.
Our skiers achieved a few firsts for us this year. We had our first veteran telemarkers, bravo to Reini and his amazing Swiss Ski Instructor team, we had our first veteran that climbed up the mountain, well dine to Bilal, and his prize is a place on Martin Hewitts climbing expedition, and we had our first veteran broken bone, a small wrist fracture for Roy. He had an early bath on only the second day so didnt get much skiing done, but had a lovely week sightseeing and joining in the lunch and evening activities.
Thanks to our strong medical team for looking after him so well.  So now everyone is safely home and looking forward to starting the mentoring programme.  This is where the life changing success stories will start. We can't wait to see how far our veterans will go.
Follow this link to the Supporting Wounded Veterans website.