Corrie star Antony Cotton has teamed up with Armed Forces charity SSAFA, to launch its annual fundraising campaign, The Big Brew Up, as he opens up in three poignant short films, published today.
Antony, who has personal experience of the challenges faced by those in the Armed Forces, meets with four amazing people, who have been supported by SSAFA. Over a brew, he hears about their experiences overcoming suicide, loss, and post-traumatic stress disorder.
Antony said:
"I have many close friends from the Forces community and have seen first-hand the challenges they face, sometimes with tragic outcomes. I know how important the simple act of a brew and a chat can be, and for them to know help and support is available when they need it.

"I'll never forget my conversations with Jason, Stuart, Mandy and her son, Jamie. I'm humbled that, over a cup of tea, they felt able to open up about overcoming their darkest moments. SSAFA really has been a lifeline for each of them."
The Big Brew Up campaign encourages the nation to get friends, family and neighbours together over a cuppa, to raise vital funds for SSAFA's military community and ensure their calls for help never go unanswered.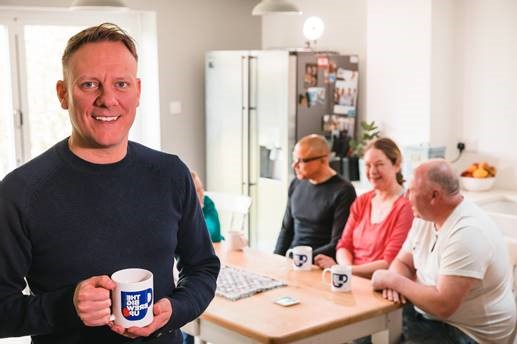 In the short films, published today, Antony meets with:
Jason Wheeler, 46
After serving 15 years in the Army, Jason was medically discharged with PTSD and depression. In the film, he opens up to Antony about his isolation, suicide attempts, and mental health. Since SSAFA's intervention in 2015, he has turned his life around, using art as a means of therapy.
Jason said:
"Over two years, I'd tried to take my life five times. If it wasn't for SSAFA's intervention, I wouldn't be here today. My case worker, Bill, saw the worst of it and just let me talk – we're friends now. He saved my life."
Watch Jason's story here.
Mandy, 40 and Jamie Small, 11
Mandy tells Antony how, since her husband Chris took his own life in November 2016, SSAFA has been a lifeline for her and her son, Jamie. Chris served 21 years as a chef in the Royal Logistics Corp, including gruelling tours of Iraq, Bosnia, and Afghanistan. After taking voluntary redundancy in 2014, he found it difficult to adjust to civilian life and their marriage broke down.
Mandy said:
"Someone told Chris it would look weak to ask for help, and that was the last time I spoke to him. You just never think it will be you that needs help but, after Chris' suicide, SSAFA's support is what got me through to the next day. Whenever I need my case worker, she's there to help, always with a cuppa in hand. She made me feel human again."
Watch Mandy's story here.
Stuart Burton, 48
Stuart Burton served in the First Gulf War and Northern Ireland and was later diagnosed with PTSD. Stuart tells Antony how, at crisis point, his marriage had broken down and he found himself homeless and contemplating suicide.
Stuart said:
"I bought a SSAFA teddy bear for my son, Ben, that he packed for me when I moved out of the family home. When I was at my lowest and contemplating suicide, I saw the bear and made the most important decision of my life – to call SSAFA for help. My case worker gave me the strength to keep going, to get my life back on track, and helped me get a roof over my head. That teddy bear saved my life."
Watch Stuart's story here.
SSAFA, the Armed Forces charity, has been providing lifelong support to our Forces and their families since 1885. Last year our teams of volunteers and employees helped more than 82,000 people in need, from Second World War veterans to young men and women who have served in more recent conflicts, and their families. SSAFA understands that behind every uniform is a person. And we are here for that person – any time they need us, in any way they need us, for as long as they need us.
Find out how you can support SSAFA, the Armed Forces charity, by hosting your own 'Big Brew Up' this year: www.ssafa.org.uk/bigbrewup
Or give £5 to the 'Big Brew Up' campaign, by texting BREW to 70085