SSAFA, the Armed Forces charity has joined forces this Valentine's Day with Coronation Street star, Antony Cotton, to recognise and celebrate supporters who go above and beyond for the Armed Forces community.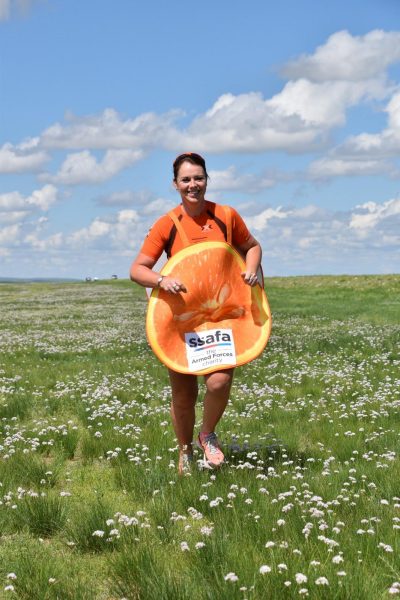 The UK's oldest national tri-service military charity relies on a network of volunteers and supporters to help those members of the Armed Forces community when they need it most.
This Valentine's Day, SSAFA has joined forces with Coronation Street star and SSAFA Ambassador, Antony Cotton, to share the love and recognise supporters who go the extra mile to support the Armed Forces community.
As part of this, Antony, spoke with SSAFA fundraiser, Sally Orange, from Wiltshire, who has raised nearly £10,000 for the charity and has run 70 marathons, 8 full Iron distance triathlons and cycled the length of the UK and New Zealand.
He said:
"Thank you for sharing the love, thank you for sharing your story and thank you for being a beacon and for being somebody that people are aware of and come to and talk. Whether that's your day-to-day work life or whether that's when your dressed as an orange at a race. It means that you are opening up a dialogue and that's all we need, we just need people to talk. Thank you so much Sally and thank you for sharing your love."
Antony also spoke with two beneficiary couples who have both been supported by SSAFA to understand the impact that supporters like Sally have on members of the Armed Forces community.
Glasgow based Shaun and Ashley, were both being supported by the charity's Glasgow's Helping Heroes – a partnership between SSAFA and Glasgow City Council – when they met in 2018.
The pair were next door neighbours at Scottish Veterans Residence, Bellrock Close in Glasgow, when romance first blossomed.
Ashley said:
"When I came back to Glasgow, I didn't have anything but with the help and support of SSAFA, they've helped me. The charity understand servicemen and women's point of view, whereas I wouldn't have had a clue and I wouldn't have met my husband without them."
The couple were married in Gretna last year and are now living in their own home with their beloved dog, Blue, thanks to the support they received from SSAFA's Glasgow Helping Heroes.
Antony Cotton also spoke with Liverpool-local Ann, who has been serving with the Armed Forces since 1987, and her wife, Emma, a charity worker and former teacher at a school in Catterick Garrison.
In June 2018, after unsuccessful attempts at IVF, Ann and Emma began their adoption journey with SSAFA.
At the start of 2020, just a few weeks before the Covid crisis hit, the couple saw the profile of a 13-month-old little girl who they wanted to be theirs. By June 2020, they were matched, and by July 2020 were able to bring their daughter home, with the formal adoption order arriving in December 2020.
Ann said:
"I don't want to sound corny, but we do actually feel really part of the SSAFA family. SSAFA has given us a family but also looked after us as well so we do really feel part of the family and I would advocate until the cows come home that what SSAFA do and what their work it."
SSAFA is celebrating supporters this Valentine's Day. To find out more about SSAFA, visit www.ssafa.org.uk