The country is going Poppy Bounce crazy this month as schools, nurseries, hospitals, job centres and various other groups and individuals jump on their space hoppers to raise money for the latest fundraising challenge being led by Armed Forces charity Poppyscotland.
The Big Poppy Bounce aims to raise thousands of pounds to help veterans bounce back into civilian life at events across Scotland in the build up to Armed Forces Day later this month.
The sponsored space-hopper challenge for all the family is one of Poppyscotland's newest events, highlighting the charity's desire to fundraise throughout the year and not just around the traditional Appeal period in November. There are already a plethora of Bounces taking place across Scotland, but there is still time for others to sign up. Here is an overview of just a few of the Bounce events taking place across the country during the month of June.
In the north of the country, pupils at Fintry Primary School, in Aberdeenshire, are running their own Bounce to end the school year on 2 July simply as a fun way to raise funds for Poppyscotland.
Next up, it's the 4th Wick Guides who are doing a Bounce for Poppyscotland on Friday 28 June. The Guides said:
"We owe the veterans so much – it's the least we can do."
In what is quite possibly the most northerly of all Bounces, Whalsay School, in Shetland, has just announced that they have already completed their Bounce, raising a superb £135 for Poppyscotland in the process.
EAST OF SCOTLAND
In the East, staff at the 205 (Scottish) Field Hospital, in Dundee, which is Scotland's only Army Reserve Field Hospital, are currently at camp in Germany, meaning their Bounce is the first to go international. Nikki Wood, from the hospital, said:
"We are going to set up a mini-assault course with the space hoppers while we are on camp in Germany. I plan to have them bouncing in a relay and dressing up along the way, being struck by water balloons by the opposition and chucking in some squats, etc. We've started our fundraising and will be doing a lot more while at camp and when we return."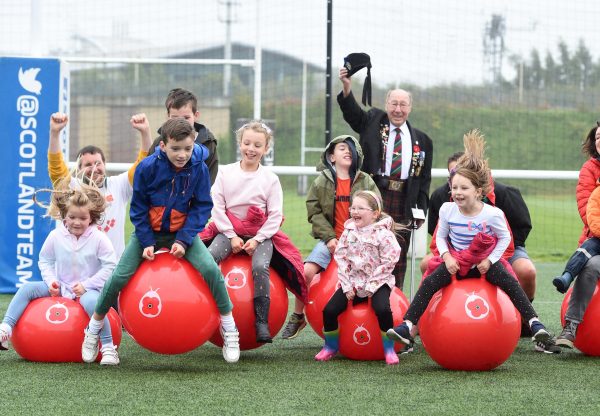 WEST SCOTLAND
In the West of Scotland, a host of differing organisations are hosting their own Poppy Bounce, including NHS Ayrshire Hospital, the Apple Tree Nursery and the Girvan Jobcentre, with the latter saying that they are bouncing because "it is fun and a way to raise money for a good cause". Meanwhile, the team at the HMS Dalriada Royal Naval Reserve, in Glasgow, are undertaking a Poppy Bounce obstacle course.
Poppyscotland's Head of Fundraising, Gordon Michie, said:
"Armed Forces Day takes place later this month, and this is a chance for the public to get behind our brave men and women who make up the Armed Forces community.

"Poppyscotland exists to support those who have served, those still serving and their families, and The Big Poppy Bounce will help our veterans bounce back into civilian life. We are encouraging families, youth groups, schools and friends across Scotland to organise their own Big Poppy Bounce event before the end of the month.

"We can provide some space hoppers and then it's up you as to how you want to bounce. For example, you could have a bounce race over 100 metres, or challenge people to guess how many bounces you can rack up in five minutes. You can hold your event at your school, your work or your local hall – or somewhere as adventurous as you like!"
For more information, or to sign up for The Big Poppy Bounce, please visit the Poppyscotland website at www.poppyscotland.org.uk/bounceor emailevents@poppyscotland.org.uk.
Mr Michie added:
"The Big Poppy Bounce is one of a growing number of fundraising activities outwith the Poppy Appeal. Our Armed Forces community needs our support 365 day a year; they cannot wait until November for us to help, so it is important that we continue to fundraise throughout the year meaning we are behind them, always. Every penny you raise will make a huge difference to veterans who urgently need our help."
Notes to Editors
For further information and all media enquiries, please contact David A. Findlay, PR Manager at Poppyscotland, on 079797 35611, or email at d.findlay@poppyscotland.org.uk.
For more information, or to sign up for The Big Poppy Bounce, please visit the Poppyscotland website at www.poppyscotland.org.uk/bounce, or email events@poppyscotland.org.uk.
Images are free to use. Please credit: Mark Owens/Poppyscotland.
Poppyscotland provides life-changing support to the Armed Forces community. Money raised from the Scottish Poppy Appeal and Poppyscotland's year-round fundraising enables them to deliver support to members of the Armed Forces community in Scotland by providing tailored funding and assistance. The charity also funds services in advice, employment, housing, mental health, mobility and respite. Please note that we are known as "Poppyscotland", and not "PoppyScotland" or "Poppy Scotland". For more information, please visit us at: www.poppyscotland.org.uk.