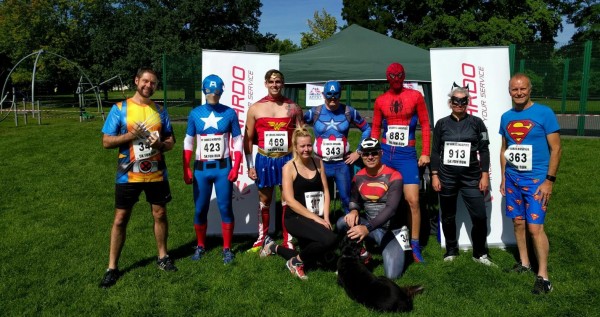 This year, the AFPST is privileged to be supported by Leonardo in our fundraising efforts, a company which is amongst the top ten global players in Aerospace, Defence and Security and one of the biggest suppliers of Defence equipment to the UK MoD. Our inspirational athletes conducted a tour of UK Leonardo sites in April and May, which enthused and motivated employees to start planning and carrying out their own fundraising activities for the AFPST 'Spirit of Challenge' campaign.
Highlights from the Edinburgh team have included a team of 12 'Leonardo Fitbitters' who collectively completed over 1.5 million steps in just 5 days, raising over £2,000 in the process. 24 Apprentices based at the Edinburgh site climbed 1,345 metres to reach the summit of Britain's highest mountain, Ben Nevis. Not to be outdone, another Edinburgh team skiied the equivalent of 6.3 times the height of Mount Everest on a dry ski slope! Farnham and Lincoln employees pushed themselves well outside their usual comfort zone to swim, walk, cycle and run a combined distance of 350 kilometres, raising £1,700 and Bristol Training Administrator, Kelly Smallcombe, braved the threat of grizzly bears as well as 2,830 stairs to scale the 1,127-metre high Grouse Grind – a 2.9km trail run up the face of Grouse Mountain in Vancouver, commonly referred to as 'Mother Nature's Stairmaster'. Kelly also organised an AFPST 'Spirit of Challenge' summer barbecue in Bristol helping contribute to a total of £1,065. One of the Luton site's senior management has recorded a video of him performing a street dance at his daughter's birthday party and is sharing the video to raise funds. Finally, the 'Leonardo Avengers' from Basildon could not be missed at the 5K run they completed!
Further activities across the sites have been planned for the coming months, and money raised from the campaign will provide much needed funds for our team of adaptive Alpine skiers, snowboarders and Nordic skiers, both at the performance and foundation levels. You can follow details of the campaign via Twitter using #AFPSTSpirit.
To find out more about the AFPST, or if you wish to donate, please visit our website, or get in touch via our social media channels.
https://www.facebook.com/ArmedForcesPST/

https://www.twitter.com/ArmedForcesPST

https://www.instagram.com/afpst/
If you have an enquiry about any aspect of the AFPST please contact Sally Mendonça (AFPST ExO) via email: FT-XO@afpst.co.uk
For all media enquires, please email: media@afpst.co.uk